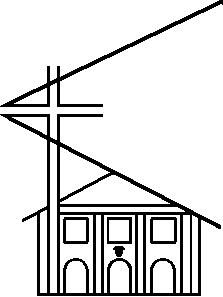 OUTLOOK
Outlook April 2020
Wymondley
Did we ever imagine how much the past weeks would have changed the lives of the whole wide world! The global outbreak of COVID-19 has impacted the lives of everyone and our hearts and prayers are with all being treated in hospital and all whose loved ones have lost their lives.
At Chapel we have have had regular Sunday morning services since March 22nd and we have Craig Bacon to thank for setting up the Zoom system and enabling us to see and sing and talk to each other and to praise and worship together. Our preachers have all joined in with us and have delivered their sermons from their homes. So we give a special thank you to Pauline Wade, Will Andrews, Jonathan Welch, and Sir Les Ebdon. We look forward to hearing our booked speakers in May.
Sadly Cyril Darley died on the 8th April and will not now be receiving his telegram from the Queen on his 100th birthday. Cyril was a beloved member of of our Church as well as being a devoted and loved Father, Grandfather and Great Grandfather. He will be greatly missed but is now in the presence of the King of Kings, where there is joy unspeakable.
Our prayers continue for our Government as they guide us through this Pandemic and we are thankful for the recovery of the Prime Minister.
We pray for all in our village who are feeling lonely at this time. We are all, I'm sure, busy using our phones, laptops, tablets, mobiles etc to keep in touch with each other. What a blessing social media can be at such times and it has been good for all who have 'Facebook' to see the Rev Ginni's 'Thought for the Day' and other messages. The wonders of technology means we can also talk to people thousands of miles away and my Son has found that extremely uplifting and helpful speaking to far away friends through the Zoom system.
These times, like Wars, bring us all close together and we have all applauded our NHS as we've joined at a safe distance on Thursdays in our roads to express our heartfelt thanks.
Of course May 8th is VE Day which reminds us of our deliverance in the 2nd World War and brings to mind the Day of Prayer when King George V1 called the Nation to prayer.
We still pray every Tuesday so join us at 7.30pm as we pray for each other, for the Country, for the sick and bereaved and indeed for the world. Our hearts are with the friends and family of Mrs. Sue Knight who died on April 5th after just 8 days in hospital. As a friendly neighbour of mine she will be much missed.
Our preachers in May (on Zoom) are as follows:
3rd Michael Resta (All Nations Christian College)
10th Judith Nugent
17th Doug Richardson
24th Craig Bacon (Thanksgiving)
31st Pentecost. *
*This has been planned to be at Hitchin Market Square, but of course is dependent on how the situation is so watch this space. Any enquiries phone 0753 1081621
Join the Sunday service at 'Church on the Internet'. at 10.30am. Dial in on 0131 4601196 or 02030512874 and meeting ID 8675752648 (#) use the link https.zoom.us/j8675752648 or download the Zoom app and join using ID8675752648. (any problems phone 0753 1081621)
"Do not be anxious about anything, but in everything, by prayer and petition, with thanksgiving, present your requests to God. And the peace of God, which transcends all understanding, will guard your hearts and your minds in Christ Jesus.   Philippians 4 v 6,7..
Marjorie McCarley
---