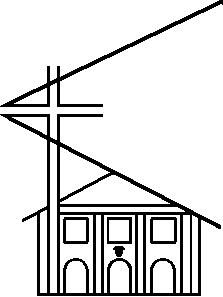 OUTLOOK
Outlook December 2019/ January 2020
Wymondley
This year our Church theme has been focused on God's character and our Sunday Services have been about the nature of God and how we want to learn more about His character and how we can respond to Him. We've looked at the life of Jesus in Luke's Gospel and more of God's character has been revealed to us through the Psalms and in Philippians and Corinthians and in the book of Ezekiel. In all these studies we have been God's holiness and His power and now we are approaching Advent we are looking toward the birth of God's Son, Jesus, the Saviour of the world. God's nature can be summed up by His amazing, sacrificial love - 'For God loved the world so much that He gave His only Son that whoever believes in Him should not perish but have eternal life'. Such love – no wonder the Angel proclaimed "I bring you good tidings of great joy". The message prophesied by Isaiah had been fulfilled.
'It's Monday' will be having a Christmas Party on December 16th and on January 6th will be celebrating its 18th birthday, so that means another party! Welcome to all who want to join us! Doors open at 10:30.
First Tuesday wCoffee and discussion at the Orange Tree on December 3rd from 10:30 and lunch on Tuesday January 7th 2020.
Prayer Time will be at Wymondley Hall (Diana Foster's home) on Tuesdays at 14:00.

Oasis - "Time of Refreshment" always on the third Wednesday.
The Oasis Christmas Special will be on Wednesday December 18th at 14:30 when the speaker will be Phil Jackson.
On Saturday 14th December there will be Family activities and a time to decorate the Christmas Tree at 14:00.
Our prayers are with all who are poorly at this time and for all who are missing loved ones. We pray for our Country and for all in positions of authority.
Coffee and teas served every Sunday after the morning service. This is open to all who want to join us and on the second Sunday, 12:15 - 13.15 Just call in and have a coffee and tea and a scone (whether you are at the service or not). You are very welcome. The next one is on 8th December.
On Sundays in December at 10:45 our preachers will be …
1st Hannah Dengate
8th Will Andrews
15th Br Barry Funnell
22nd Bryan Field Carol Services at 16:00, followed by mince pies.
25th Christmas Day Praise
29th Cive Bacon
And in January …
5th The Deacons
12th Ian Merrick
19th Rev Ray Thomas
26th John Richardson (Pulpit exchange)
Warmest Christmas Greetings and Every Blessing for 2020.
O Holy Child of Bethlehem,
Descend to us we pray;
Cast out our sin, and enter in;
Be born in us today.
We hear the Christmas angels
The great glad tidings tell;
O come to us, abide with us,
Our Lord Immanuel.
Phillips Brooks 1835-93.
Marjorie McCarley
---