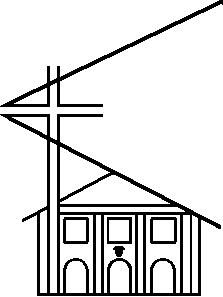 OUTLOOK
Outlook April 2019
Wymondley
Water is something we have not been short of in recent days. As the rain fell each day, for hours on end, we were nostalgically remembering this time last year when it was bright, sunny and very hot. However, I have also been reminded how very important is water to our lives and to our world. I had a plant which had dried up and was looking quite lifeless and I was convinced it would not last another day. Yet, with care and gentle watering it came back to life and was in flower again as good as new. A very good friend of mine told me one day when I did not feel very well to drink plenty of water and I tried it and yes, I felt much better!
Jesus spoke about water when he met the woman of Samaria at the well. His words to her will live with us for ever when we acknowledge that he is the Living Water (John 4: 13,14).
"Whoever drinks the water I give him will never thirst. Indeed, the waterI give him will become in him a spring of water welling up to eternal life".
A song that we often sing which originated in the book of Psalms speaks of being thirsty for God: "As the deer pants for the water, so my soul longs after You" - and I believe that this is how God wants us to be thirsty for His presence in our lives and when we thirst, we go to the Saviour for the water of life.
'It's Monday' takes place every week with a varied programme and occasional outings. Doors are open at 10.30am when coffee and tea are served. Anyone who would like to come will be made very welcome.
First Tuesday is on 2nd July and 6th August with Coffee and Discussion at The Orange Tree from 10.30am with Will and Lynne Andrews.
Prayer Time on Tuesday evenings at 7.30pm at Wymondley Hall Farm. (Diana Foster's house).

Oasis 'A Time of Refreshment' is always on the third Wednesday (apart from August). The next one is on 17th July when our Oasis Summer Special will be at 2.30pm.
The Men's Group have had some interesting outings including Tower Bridge and Duxford Aircraft Museum
Church Together Day is on 7th July and after the service we will have a 'Bring and Share' lunch at Wymondley Hall Farm and have an afternoon together, with games, walking or just relax!
Our prayers are with all who are ill at this time and for all receiving hospital treatment. We also pray for those recently bereaved and we remember John Windebank who lived for some years in the village with his wife Jenny and served on the parish Council and other organisations. A very public spirited man, John voluntarily kept the village neat and tidy and as a music lover, he played his ukulele and mandolin at the Chapel and for the 'It's Monday' Group and sometimes at local residential homes. A beloved husband, father, grand-dad, great granddad and brother, John will be sadly missed by all his family and many friends. Our thoughts and sympathy are with them all.
We continued to pray for our country, that our leaders will seek God's wisdom and guidance in all their endeavours.
On Sundays in July at 10:45 our preachers will be …
7th Jonathan Welch (Church Day)
14th Rev. Janet Graham
21st Judith Nugent
28th Bryan Field
Bible Explorers for children at 11.15 am. (Except Easter Day)
Coffee and tea served after the service.
And in August
4th Kieran Murphy
11th Will Andrews
18th Pauline Wade
25th Adrian Brixey
"Jesus stood and said in a loud voice, 'If anyone is thirsty, let him come to me and drink. Whoever believes in me as the Scripture has said, streams of living water will flow from within him.' By this He meant the spirit, whom those who believed in Him were later to receive. "
John 7: 38,39
Marjorie McCarley
---