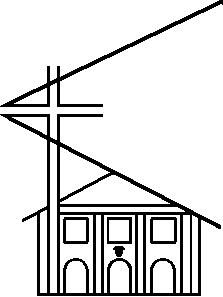 OUTLOOK
Outlook July/August 2020
Wymondley
Did you see the description in the Comet recently about the Wymondleys? Our villages were treated to a whole page which started like this "Nestled between the thriving towns of Hitchin and Stevenage are Little and Great Wymondley - two compact villages in North Hertfordshire that cram convenience and spirited community into 1.4miles of glorious countryside." Wow! We certainly live, according to that description in a wonderful area. However accurate we think those words are, we have to admit that we do live in a good place and we have much for which to be thankful. We have our Churches, and all through the Pandemic we have been able to link in to a Church service, on zoom or facebook or communicate with our Vicar or Chapel member by phone or email. We also have the Wymondley Scrapbook on line which Robbie Howard has provided, and friendly neighbours. The local pubs have provided take away meals, our Parish Councillors look after things for us and a village school whose motto is 'Responsible, Respectful and Remarkable'. And these are just some of our blessings.
On Sundays at Chapel (on Zoom) we have been doing a series on 'Restoration', starting with the re-building of the temple through the people who had been suffering for years in captivity. This restoration resulted not only with the temple in Jerusalem but also the restoration of the people whose willingness, generosity and devotion renewed their faith as well as getting the job done. We read in Ezra that 'many wept aloud while many shouted for joy' when they saw the foundations of the temple being laid'. Worship and praise of God resounded through the city.
Our pandemic cannot be compared to the exile of God's people, but as we move into the next stage with the beginning of a kind of new normality, we can feel the joy and optimism that they had when they saw what could be accomplished.
Over these weeks we have prayed in our homes but all together on Tuesday evenings at 7.30pm. As soon as we are able to use our church building and hall we will make sure that we let everyone know. With social distancing still an issue, our services will continue on zoom until further notice.
Our prayers are for all who are ill and for those mourning and missing loved ones. We continue to pray for our Government and for the Queen,
for the NHS and for those suffering with this virus in parts of the world where there is extreme poverty. We pray too for the covid-19 to be over once and for all.
Our preachers in July… Link in at 10.30am for a 10.45am start:
5th Kieran Murphy (PHASE)
12th Rev Phil Jackson
19th Bryan Field
26th Will Andrews
And in August…
2nd Pauline Wade
9th Bryan Field
16th Dr Barry Funnell
23rd Ian Merrick
30th Derek Peterson
Link in on https//zoom.us/j/8 675752648 or download the zoom app and join using ID8675752648. You can also dial in on 01314 601196 or 0203 512874. Any Problems phone 07531 08162.
This link can also be joined for a Bible Study on Wednesday evenings at 7.30pm (weekly) or Friday at 11am (fortnightly)..
"Give thanks to the Lord, for He is good; His love endures for ever."  Psalm 107:1
Marjorie McCarley
---