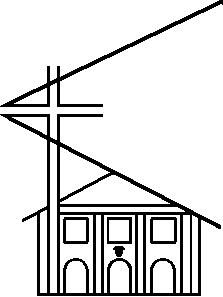 OUTLOOK
Outlook December 2018/ January 2019
Wymondley
Politics have dominated the news day and night recently and when we think about when Jesus was born, politics came very much into the situation, making Mary and Joseph travel to their birthplace in Bethlehem for the Census caused by the imposition of direct Roman Rule. Caesar Augustus had issued the decree so they would know just how many people were part of the Roman world. Quirinius the Governor of Syria had the job of seeing this through and Mary and Joseph, as part of the province of Judea, went to Bethlehem.
Thankfully it is not men who control history, but it is God and although the Governor of Syria demanded the Census, God knew from the beginning of time that His Son, Jesus Christ would be born in Bethlehem, as foretold in the Old Testament. It is a wonderful re-assurance that although men give the orders and demands, the Lord's plans work out. When we read John 3:16 we know that God loved the world so much that He gave His one and only Son to bring abundant and eternal life to all who put their trust in him. As we shall soon be singing in that well known carol
"Born to raise the sons of earth, born to give them second birth.
Hark the herald angels sing. Glory to the New Born King. "
Christmas at Chapel:
Wednesday 19th December Oasis Christmas Special at 14:30 with Will and Lynne Andrews. Everyone welcome. Festive Refreshments
Sunday 23rd December - Carol Service at 16:00 with Rev. John Clark, followed by tea and mince pies. (John and Norma (nee Smith) Clark were at Wymondley in the 1960s before they went to Brazil after their marriage in 1966.)
Christmas Day Celebration at 10:45 - 11.30am with Clive Bacon.
On Monday, 17th December we join the Nativity procession with our friends from St. Mary's. Always a special time for little Wymondley.
It's Monday Party will be on 17th December from 10:30.
First Tuesday, Coffee and Discussion from 10:30 at The Orange Tree.
Prayer Time at Diana's on Tuesdays at 14:00. (any change will be announced).

Oasis 'A Time of Refreshment' - always on the third Wednesday at 14:30. Open to all.
Our prayers for all who are unwell, or receiving hospital treatment and for all who are mourning and missing loved ones.
On Sundays in December at 10:45 our preachers will be …
2nd Margaret Edmonds
9th Kieran Murphy
16th Ian Merrick
23rd Rev john Clark Carol Service at 16:00
30th Rebekay Bacon
Christmas Day Celebration - Clive Bacon 10:45-11:00
And in January 2019 …
6th The Deacons
13th Bryan Field
20th Titus Ekun Pulpit exchange
27th Rev David Ronco
Bible Explorers for children at 11.15 am.
Coffee and tea served after the service.

" Angels sing again that song you sang,
bring God's glory to the heart of man,
Sing that Bethlehem's little Baby can
Be salvation to the soul ".
Michael Perry.
Marjorie McCarley
---