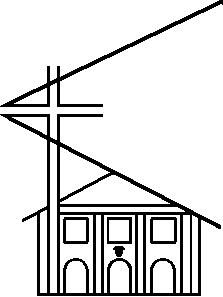 OUTLOOK
Outlook April 2019
Wymondley
People's names are always very Interesting and some of us have 2 or 3 Christian names and we know they always have a meaning and it is a fascinating exercise looking them up. Quite recently I was looking at some of the many names and titles given to Jesus, and I was staggered by the enormous number. We all recognise some of the familiar ones - Jesus, Christ, Emmanuel, Saviour, Redeemer, King of Kings and Lord of Lords, Messiah ... to mention just a few. On the day of the Crucifixion, we shall always recall the words of the Roman centurion as he stood on duty on that unforgettable day, near to the cross, having witnessed the death of Jesus of Nazareth. On a day when the sky was darkened, the earth shook and he watched this Man suffer and die. What were his profound words? "Truly this was the Son of God".
Sometimes people wonder what God is like, and we just have to look at Jesus, who said quite clearly to Philip in John 14, who asked that same question and heard the reply "He who has seen Me has seen the Father".
And as we go through Lent towards Easter, it is a time to look afresh at our Saviour and realise who He is, and how much He loves us and we can echo the words of a hymn which explains why He died.
"You went to Calvary, And there you died for me, Thank you, Lord, for loving me."
Easter at the Chapel:
Maundy Thursday 18th April - Communion Service at 7.30pm Easter Sunday Praise 21st April at 10.45am
'It's Monday' - every week, rain or shine. Varied programme. Refreshments. Doors open at 10.30am. Welcome!
First Tuesday Coffee and discussion at The Orange Tree from 10.30am on April 2nd with Will and Lynne Andrews.
Prayer Time at Wymondley Hall (Diana Foster's home) Tuesdays 7.30pm

Oasis 'A Time of Refreshment' Wednesday 17th April at 2.30pm with Joy Burnham speaking. Tea and cake after the talk. A warm welcome awaits.
We pray for all who are unwell at this time and for all mourning and missing loved ones. Our prayers too for our Country and for all in authority that they will seek the wisdom of God.
On Sundays in April at 10:45 our preachers will be …
7th Sir Les Ebdon
14th Kieran Murphy
21st Doug Richardson. Easter Day
28th Jonathan Welch
Bible Explorers for children at 11.15 am. (Except Easter Day)
Coffee and tea served after the service.
Communion on the 14th.
"This is my beloved Son, in whom I am well pleased,
Listen to Him "
Matthew 3: 17
Marjorie McCarley
---