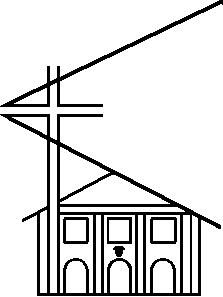 OUTLOOK
Outlook February 2019
Wymondley
"February brings the rain,
thaws the frozen lake again"
thus goes the ditty about the weather, but as we all know, February, or March or even April can bring the SNOW - so we can't assume anything. In this life we have to be ready for anything, so planning or anticipating can take a knock as the unexpected can take us by surprise. In the Bible we are encouraged to take one day at a time. In the Lord's prayer - 'Give us this day our daily bread', in Joshua 'Choose you this day who you will serve', in Exodus, the manna came down enough for each day, and we read in the psalms many references to 'today', including 'Today, if you hear His voice, harden not your hearts', and 'This is the day which the Lord has made; we will rejoice and be glad in it'. So many references to each day And we can say together 'New every morning are His mercies' as we rise to meet a new day.
The new season of 'It's Monday' has begun with our celebration of seventeen years and we will all miss Ivor and Clare Hancock who have now moved to Berkhamsted. Our thanks for all they have been to us while living at Little Wymondley for the past seven years. We wish them every happiness in their new home and surroundings.
We meet, rain or shine, every Monday, door open at 10.30am. Refreshments and a varied programme. New members most welcome.
Tuesday, is the day we meet for prayer at Diana Foster's (Wymondley Hall Farm) at 2pm - except on the first week when it is at 7.30pm. Tuesday 5th February - Coffee and Discussion at The Orange Tree with Will and Lynne Andrews from 10.30am.

Oasis 'A Time of Refreshment' will be on Wednesday 20th February, when Hazel Cuthbertson will be the speaker in the Chapel Hall at 2.30pm. Tea and cake served.
Messy Church will be on Saturday 23rd February, 4pm - 6pm.
A fun time for all ages with crafts, quizzes, Bible stories, and more, with a light meal too.
On Sundays in February at 10:45 our preachers will be …
Our prayers are with all who are poorly at this time and for all mourning and missing loved ones. We pray too for our country. At special times in our history there have bee national days of prayer and there is such a day in London on January 26th at Wembley Arena.
Looking ahead to March, we are the hosts this year for the Women's World Day of Prayer and the Rev. Ginni Dear will be the speaker on the 1st of March at 2pm.
3rd Margaret Edmonds
10th Hanna Dengate from PHASE in Hitchin
17th Margaret Edmonds
24th Dr Barry Funnell Carol Service at 16:00
Bible Explorers for children at 11.15 am.
Coffee and tea served after the service.

" 'Now is the accepted time - today is the day of salvation ....
encourage each other daily, while it is still today ....
Jesus Christ, the same, yesterday, today and for ever' ".

Marjorie McCarley
---