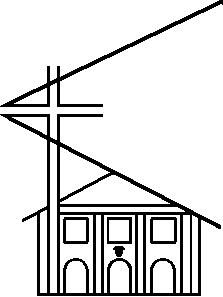 OUTLOOK
Outlook February 2020
Wymondley
Have you noticed how some of the Christian names of old have made a comeback? We also recognise that names have a meaning and we know that the Bible emphasises this. I have recently been reading in the book of Acts about Barnabas, the great encourager. His name actually means 'son of encouragement' and at a crucial time in the early church Barnabas was a true encourager and this had a profound effect on the Christians of the day. We are so aware that discouragement is both depressing and destructive but encouragement is energy giving, inspiring and productive. The early disciples were encouraged to remain loyal to the Lord with all their hearts and to be resolute and steadfast in their devotion to the Lord. Barnabas was generous, faithful, forgiving and a committed encourager and this was so good for the Believers in the early church. It's good for us too. Let us encourage each other more and more in this year of 2020!
'It's Monday' every week. Doors open at 10.30am and a new programme is available. We have a variety of mornings to look forward to and refreshments too. As well as our weekly activities we have a 'Bring and Buy' table and were able to give another £1 00 to Mercy Ships in December. We miss people who have been poorly especially Ivy and Una. Sadly Mary Birdseye, who used to be a regular member before moving to Benslow nursing Home, died in December and our deepest sympathy goes to Gerry Pettet (her daughter), husband Brian and the family in their loss. Gerry and Brian help us each week with the Club for which we are very thankful.
First Tuesday will be on the 4th February, with coffee and discussion at The Orange Tree from 10.30am.
Prayer Time will be at Wymondley Hall on Tuesday 4th February will be at 7.30pm, and at 2:00pm on the 11th, 18th and 25th February.

Oasis - "Time of Refreshment" - always the third Wednesday. The next meeting will be on February 19th at 2.30pm. Everyone welcome. Tea and talk and homemade cake.
Men's Group are planning their programme and hope to meet every third Thursday, with indoor activities in the winter months and outings later in the year. Any enquiries - phone Geoff on 01462 452179.
Our prayers for all who are suffering in any way and for those receiving treatment in Hospital. We continue to pray for our Nation as we thank God for our Queen, and pray that she will know the peace and presence of God in all her decisions as we pray too for the Government that they will seek God's will in all their deliberations.
On Sundays in Febraury at 10:45 our preachers will be …
2nd Will Andrews
9th Kieran Murphy
16th Sir Les Ebdon
23rd Rev. Ray Thomas
Bible Explorers for children at 11.15 am.
Coffee and tea served after the service.
Don't forget our Sunday Cafe Special on Sunday 9th February open to all 12.15 - 1.15pm. Coffee, tea, scones.
"The Lord's hand was with them, and a great number of people believed and turned to the Lord. News of this reached the ears of the Church at Jerusalem, and they sent Barnabas to Antioch. When he arrived and saw the evidence of the grace of God, he was glad and encouraged them all to remain true to the Lord with all their hearts. He was a good man, full of the Holy Spirit and faith, and a great number of people were brought to the Lord.".
Acts 11: vv 21-24
Marjorie McCarley
---