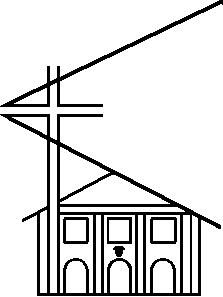 OUTLOOK
Outlook December 2016/January 2017
Page 6
From Outlook Reporter, Marion Woodbridge …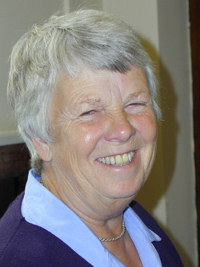 Marion Woodbridge

Margaret Coney
I was most fortunate when Margaret and Graham Coney came saying they thought I could do with a change of scene ... I could ... so they drove me to their temporary house in Stotfold, as their home in Whitwell is having building work done. So after a pleasant ride to Stotfold and with a cup of coffee Margaret told me that as a girl she lived in Wilton Road, Hitchin - a real Hitchin girl whose mother was Evelyn Cooling's sister.
Margaret remembers playing marbles in the road, but was only allowed to push her dolls pram in the garden. At a very early age she went to THS afternoon Sunday School, where she remembers the 'piano lady' Gill Mayes. Margaret attended Strathmore School and then Wilshere Dacre where, in her second year she met a girl called Vivienne, and they are still friends today. She then went on to the High School, now the Priory, where she stayed until she was eighteen. After leaving school Margaret worked in the Letchworth branch of Westminster Bank, but at the time of their merger with the National Provincial Bank, the branch was closed so Margaret went to the Bank's London Training Centre at Kings Cross for two years teaching on a number of courses. She was then transferred to Oxford Circus, walking from Kings Cross because at the time the I.R.A. were very active and the tube seemed a hazard. Then after a while she was moved to the Berkley Square branch ... however, she did not hear any nightingales! With all the travelling involved, Margaret was not happy, so she left the bank and got a job with the Bristol and West Building Society in Hitchin.
Someone called Graham visited T.H.S., met up with Margaret and they married in 1979. Graham was an aircraft engineer and in early 1980 he was commissioned to 'care foe a privately owned aircraft in Kuwait (a very small country just south of Iraq). Margaret and Graham stayed in the company's flat. It was very hot and sometimes rather humid and when the air conditioning broke down they drove around in the air-conditioned car to cool off! During this twelve months the aircraft came back to UK for maintenance and they were able to take a holiday in India with a visit to Agra and the Taj Mahal, stayed on a houseboat in Kashmir and back to Delhi where Margaret had Delhi-belly! They stayed in the International Hotel, Margaret was feeling a little better and they went to the dining room for something to eat, took a look under the pie crust of an apple pie and found mould!!
In 1982 it was back again to Kuwait and Margaret was happier this time as she was able to drive. They attended the inter-denominational church and made friends with a British Lutheran couple and also with some Americans. After a year it was back to Hitchin and several different office jobs but then after 10 years it was back to Kuwait again a third time. This time there were many signs of the recent Kuwait/Iraq war with buildings destroyed but things were slowly getting back to normal. (Margaret did not see Storming Norman though!). Coming back to the UK Graham had a job in Edinburgh . Margaret already had a job in Stevenage with the Woolwich Building Society but she was able to get a transfer to Edinburgh, working full-time and living there for seven years. During this time she attended Bristol Baptist Church and was baptised there. Eileen Smith went up to Scotland to support her for this exciting service. Coming back to Hitchin Margaret worked briefly for Stapleton's Tyre Service in Letchworth and then for Foster & Shackell building contractors and although now retired, still does some work for the company.
At THS Margaret is a steward and organises the Rota, is on the Coffee Rota, orders and distributes Bible Reading Notes, is the B.M.S. Rep and was for many years in the church choir. She remembers Sunday School days, Scripture exams, Geoffrey Cooling's Youth Group and teaching in the Primary Department. What amazing memories ... we could have talked all day!

Saint Peter
I asked Margaret …
Who would you like to have a cup of tea with?
Oh - Simon Peter.
What would you like to say to him?
I would ask him to tell me a lot more about Jesus. There is so much we don't know and Simon Peter was with Jesus.
What is your earliest memory?
It is of my father putting me on the little seat on his bike and taking me to Tilehouse Street Sunday School.
Who influenced you as a teenager?
Catherine Slade - she was younger than me, but she had 'something' I didn't have. Catherine was a professing Christian and I wasn't I went with her and about eight others to a summer school holiday in Dublin. The Communion service certainly made a big impression on me.
What do you do when at home?
I do gardening and also Knitting and crochet work but not so much now as I have had a frozen shoulder and it can be painful.
Do you read at all?
Not really - but I did read a book by Alan Sugar, how he became a multi-millionaire from very humble beginnings . I do read the Bible 'though!.

Hedgehogs fight
What makes you laugh?
We have a CCTV set up looking over the garden and we have been watching two hedgehogs who have a fight and then roll up in a ball. They make me laugh!
What do you like on TV or listen to on the radio?
I don't watch much TV but I do like Autumn and Springwatch and some Quiz programmes.
Where would you like to go on holiday?
I would like to go to New Zealand. I understand the countryside is beautiful. Hilary Womwell has just been and said how lovely it is.

Christmas excess
What makes you cross?
All the Christmas stuff in the shops so early - in September and October. Mothers have such difficulties with children telling them it's months to Christmas. Somehow the real meaning of Christmas has gone. Oh - and motorists who drive over the speed limit.
Can you do anything about it?
It's difficult - not shop for Christmas until December? ... but it is impossible to stop drivers going too fast. Just don't go over the speed limit yourself.
Is there a phrase or saying you try to live by?
Don't expect other people to do things you are not prepared to try to do yourself!
Don't expect other people to do things you are not prepared to try to do yourself! Thank-you Margaret ... I had a really lovely time with you and thank you too for the trip to Costa Coffee for lunch and more conversation.
Marion Woodbridge..
---