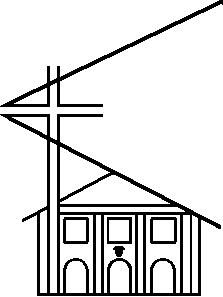 OUTLOOK
Outlook December 2019/ January 2020
Anniversaries Celebration
The final act of celebration in our 350th year on the 30th November was a joint service at St Mary's. We joined with the other Churches in Hitchin celebrating anniversaries: Walsworth Road Baptist Church turned 150 this year; St Faith's at Walsworth 125 years old and Christchurch 50 years since it's amalgamation on the present site. This event took place too late to appear in the printed edition of Outlook
There was a good turn out considering the cold weather.
Members of the four Churches made outlines of their hands in different colour card. They were fixed to a huge banner in the design of a Celtic cross, symbolising the friendship of Christ's followers in the town of Hitchin.
The service was introduced by the newly-installed Vicar of St Mary's, Chris Bunce (left). Our Minister, Rev Jane led a prayer (right).
Each Church gave a two minute summary of its history. Ours was read by Marion Woodbridge (left). The sermon was delivered by the Rev Paul Goodliff, general secretary of Churches Together in England. (right)
There was an unusual gospel choir to sing for us.
---