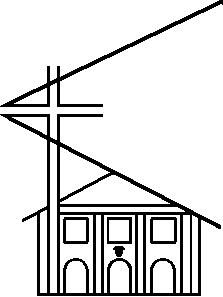 OUTLOOK
Outlook July/ August 2019
350th Anniversary Celebrations - 2
Launch of The Ongoing Story of Tilehouse Street Church
Thursday 21st March 2019.
It was with some reluctance that I accompanied Andy to the Thursday evening discussion of Tilehouse Street's history over the last 50 years and the launch of "The Ongoing Story" - the sequel to Come Wind, Come Weather the history of the first 300 years. When I was at school (many years ago) I loved geography but found history dull and boring - since then I've avoided anything to do with history! However I did not want to let my friends down and felt that I should support the evening.
Much to my surprise I found the evening enjoyable, with the café style seating friendly and welcoming. The question and answer session was interesting with stories and reminiscences being illustrated with slides.
The three authors, Gill, Pam and Marion explained how they had gone about writing the booklet, and told their favourite stories, bringing back forgotten memories and events we didn't know about.
There were a number of old friends present and time to look at a large selection of photograph albums and other memorabilia.
If you were unable to go to the evening you certainly missed out on an interesting, informative and fun evening. However do buy the booklet, at £3.50 it's a good buy!
If you are interested in the history of the first 300 years, check out the Tilehouse Street Baptist Church web site: http://www.ths-baptist.org.uk/history.htm. There's the full text of Come Wind, Come Weather plus lots more!
Liz Turner
The Ongoing Story
The Ongoing Story seeks to bring the history of Tilehouse Street Church up to date,
covering the past 50 years since Come Wind, come weather
was published to celebrate our 300th Anniversary.
Copies are available from the Church.
Price in person £3.50 — By post: £5.
Contact Andy Turner — Telephone: 01462 456665
---
The Celebration Quiz
- Saturday, 23rd March, 2019.
And it was a celebration! The hall was full of ever hopeful competitors. There were teams of people who meet on our premises ... from Scouts, Keep Fit, Pre-School and Nursery, Toddlers, Badminton, The Church of Yahweh. We were glad to welcome a team from Stondon as well as a couple of 'home' teams with visitors.
With Peter in command, Martin and Ian organising and setting the questions and Andy and Joyce keeping scores, we began. All the teams had special names from 'Purple Monkeys' to 'Caterpillars', and to enhance each team's score there was the 'joker' to play just once. It needed skill to choose which round was going to be most beneficial to play that 'joker'!
There were six rounds ranging from "Remembering dates and times" to a "Green round" and "Bunfight at O.K. Corral" round, and of course there was the marathon picture round. For some competitors some of the questions were easy - a picture of T.H.S. and John Bunyan, but others required a bit more thought ... name the salad dressing which is made from anchovies, sour cream, garlic, mayonnaise, parsley, tarragon, chives and lemon juice! The Scouts had an answer but it certainly wasn't the correct answer - "Green Goddess"! Can you guess who set that question?
There was an interval with more drinks, cheese and biscuits and of course, talking to friends old and new. When all the scores were added up the "Ever Hopefuls" were the winners and "The Cabinet" won the wooden spoon!
We were grateful to Peter for suggesting the Quiz at nearly the end of our 350th Anniversary celebrations, to Andy and Joyce who did a grand job keeping the scores and a huge thank-you to Ian and Martin who kept everything running smoothly. Also thanks to the 'wenches' who came dressed in 1669 apparel and tried to keep question papers flowing in the right direction. It was a jolly good evening!
Marion Woodbridge
---
Songs of Praise
- Sunday, 24th March 2019.
A good voice was required for this special service celebrating the 350th Anniversary of Tilehouse Street Baptist Church. It was a service with a difference - the chairs were arranged in semi-circles around small tables covered with streamers and party poppers. What was going to happen?!
We certainly did need to be in good voice as we had many songs to sing. Each song was chosen earlier by various members of the congregation. The first, sung whole-heartedly, was Thine be the glory, followed by a much quieter song Be still, for the presence of the Lord is shining all around. The rest of the service included And can it be, All things bright and beautiful, The Lord's my shepherd, Shine Jesus shine (incidentally my favourite!) and we ended with Brother, sister, let me serve you.
The organist for this 'singalong' of favourite hymns and songs was Tom Nichol whose playing added greatly to everyone singing with great gusto!
The service included Bible readings selected by the Rev. Jane but read (without any advanced warning) by volunteer members of the congregation. And also included in this special celebratory service was the cutting and eating a beautiful cake made and decorated by my friend Janine Hegley.
We wrote prayers on the streamers and these were linked together to make a long paper chain of prayers which were offered to God.
Finally the party poppers were let off with a bang and ended what had been a very happy, joyful and meaningful service to which the large congregation had contributed.
Alison Doggrell.
---