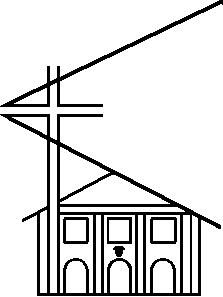 OUTLOOK
Outlook December 2019/ January 2020
From Outlook Reporter, Marion Woodbridge …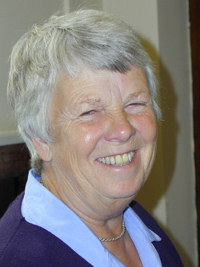 Marion Woodbridge

Robyn Shelford-Clarke
This month I had a really great time talking with Robyn Shelford-Clarke. We met at church and sat hugging a warm radiator! Robyn told me that she was born in Kettering and then moved to Luton until she was eight. She then moved to Hitchin and attended Wilshere Dacre School and The Priory School. Robyn didn't seem over-enthusiastic about school but she enjoyed helping her Mum and Nan in the shop 'Nips and Tucks'
in The Arcade in the holidays. After she left The Priory School, she went on to Hitchin College to learn hairdressing. However, having become aware that she could not follow that as a career because the hairdressing solutions caused her excema to become too painful, Barnardo's charity shop called and Robyn worked there, rising to manager, starting at 18 years old. She then went on to the Cancer Research charity shop.
Then Merlin was born ... he is now fifteen years old. Later, Robyn became really ill with M.E. and Merlin had to be looked after by Mum and Dad. Robyn slowly got better and in 2009 decided to go to Bedford to learn Counselling and then went on to Dunstable to do a course in managing Conflict.
In 2007 Robyn met Martin, just in passing, at the Tilehouse Street Pre-School. Merlin was there watching the Magic show! In 2010 Robyn and Martin got together and in 2013 Ohara was born. Now, coming up to Christmas, Martin is very busy all over the country teaching and performing in his Magic Show. In 2018 we were delighted to have Robyn and Martin come to Tilehouse Street Church for their wedding and in 2019 to the service of blessing for Merlin and Ohara. Both were happy and exciting occasions with many friends and relatives attending.
I asked Robyn…

Stephen Fry
Who would you like to have a cup of tea with?
I would like to meet two people — Stephen Fry and Philip Schofield.
What would you say to them?
Well general conversation, but it would be interesting to talk about Stephen Fry's health problems and discuss how he manages them. And Philip Schofield is so lovely, I wouldn't be allowed to get too close to him in case I ran off with him!!
What is your earliest memory?
We had a silver Christmas tree with multi-coloured balls and lights the shape of flowers. It was so colourful and beautiful to me as a child. Now, in the loft, it doesn't look so good!
Who influenced you as a teenager?
My Mum — she was, and still is, my best friend and a brilliant parent.
What do you do when at home?
I love my four cats. I have fostered cats, but I tended to keep them! I love singing and I cook - it helps when I'm stressed.

The tatooist of Auschwitz
Which book are you reading at the moment?
I have just finished reading a book called 'Tattoo of Auschwitz' by Heather Morris. She was writing about a Jew who survived because of his skill.
What do you watch on TV?
Quiz shows — Only Connect and University Challenge, although they are very hard. Martin has appeared on The Link and Eggheads (not shown yet ... look out for him).

Blackpopol illuminations
What makes you laugh?
Commedians — Stand-up comedy.
Where would you like to go on holiday?
Oh — Blackpool. We went when I was a child and I loved the lights. I would like to go to Egypt to see the pyramids but I can't bear sand on my feet!
What makes you cross?
Lollipop ladies. And incompetent and bad customer service, especially in shops.
Can you do anything about it?
Try to help and by having a helpful word with them
Do you have a phrase or statement that you try to live by?
Yes – if you can't say something nice, say something funny.
Thank-you Robyn, it was a delight to talk with you and it is so good to see you on Sundays when you can manage it, but I understand your problem with M.E. makes things difficult on occasions.
Marion Woodbridge..
PS Robyn has assisted her magician partner in some of his tricks! [Shutterstock]
---