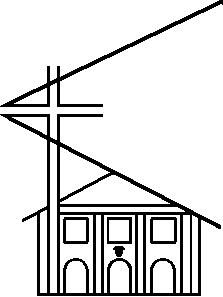 OUTLOOK
Outlook February 2020
From Outlook Reporter, Marion Woodbridge …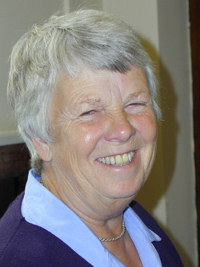 Marion Woodbridge

Gilly Proctor
Gilly, my daughter, came for a 'catch-up' as she often does and I took the opportunity to ask her a few questions for Outlook. Gilly said - "I was born in West Hill. My Dad had to go for Miss Dunn, the midwife, to help her through the snow and carry her bags. He then cooked breakfast for her and himself (not for Mum), lit the fire in the bedroom, Miss Dunn drew the curtains and in the calm and dark room I was born. (Did that have an effect on me in later life?)
I went to York Road Nursery with head-teacher Miss Cordel, who was very keen on dancing. Then following Ian and Lizzy I went to St.Andrews School which was then in the square where the market stalls are now. The building was an old Victorian School. I remember my teacher was Miss Cave. We went after school to my grandad's shop in Churchyard - Woodbridges. The school then moved to a new modern building in Benslow Lane - what an amazing change and the additional pleasure of a swimming pool a year later. Just recently I have been back to St. Andrews School to an open day and went round the school and grounds which had not changed very much. I met some friends who were in my class. I also met Mr. Harold who was my teacher in the final year. He read to us Jonathan Livingston's 'Seagull' which became a favourite.

Woodbridge's shop in Church Yard

GB Captain Jean Nixon
I was part of Tilehouse Street Church in the Girls' Brigade with Captain Jean Nixon, the Youth Fellowship with Gill Mayes and Pam Slade, and in the Youth Choir with Miss Harris.
I went to Highfield School in Letchworth, was really influenced there concerning environmental issues and became interested in the removal of the graves behind the Church where later, Robert Tebbutt Court was built. I wrote an essay for my 'O' levels. The Hitchin 'new' museum has something about it. Then for 'A' levels I wrote an essay about Hitchin. At that time the old Market Place was used as a car-park and I wrote that it was not used for what it was intended. Now it is not used as a car-park in the day but used for all sorts of activities by towns-people. (not Gilly's influence I think!)
I left school and went to start nurse training at Addenbrooks hospital. After three years I did an extra six months in the trauma orthopaedic ward. Then, with friends, I went off to Australia for six months, sometimes travelling, sometimes working in a hospital. Then back to Cambridge to begin training as a midwife and working at The Rosie. Later, again with friends, we went travelling to India, Indonesia, Thailand and Australia, and on the way home we went trekking in Nepal.

Rosie Birth Centre
I came home and at a nurses party met Bob, a paramedic. (You can imagine how complicated it was for them to meet up with their different shift systems!) We were married and have two sons - George with a History degree, now working in Canada (who else is in Canada?) and Archie with a degree in anthropology. He is working in a pub in Cambridge until he has decided what to do next.
I am now at The Rosie as a senior midwife in the Delivery Unit. The Knit 'n' Natter Group at Tilehouse Street have been so kind knitting traffic-light hats for babies and breasts for expectant mothers learning how to breast feed their babies. Now we are asking for 'sleeves' to cover cannulas with lines going into the sick babies arms. From the Rosie staff - thank-you so much, Knit 'n' Natter Group — we do appreciate all you do to help us.
I asked Gillly…

Aneurin Bevan
Who would you like to have a cup of tea with?
I would like to meet Aneurin Bevan. He was a Labour M.P. And managed the N.H.S. From 1945 - 1951.
What would you say to him?
I would ask him what led him to dream of a working and workable N.H.S. which came true in 1948. Now how would he, with the strides in science and technology and new drugs, manage money and staff. (I think he could!)
What is your earliest memory?
Going to York Road Nursery and remembering the picture on the peg to hang my coat on was an ice-cream.
Who influenced you as a teenager?
The teachers at Highfield - Mrs. Davidson and Mrs. Wiggs who taught environmental issues.
What do you enjoy doing away from work?
Oh - walking Beccles, Archie's border terrier dog. She is lovely.

Black box thinking
What are you reading at the moment?
A book with the title 'Black Box Thinking' by Matthew Syed. It's about why people are successful and why people make mistakes.
What makes you laugh?
Fun with family, friends and work colleagues.
What do you listen to or watch on TV?
I avidly listen to the Archers and I like a good drama on TV.

The Archers [BBC]
Where would you like to go on holiday?
I would like to visit Vietnam and Cambodia and places I couldn't visit before.
What makes you cross?
Litter
Can you do anything about it?
Yes - pick it up!
Do you have a phrase or statement that you try to live by?
Yes -'treat people with civility'.
I thanked Gilly - it was good to be reminded of so much that happened in the past! Marion Woodbridge.
Marion Woodbridge..
---