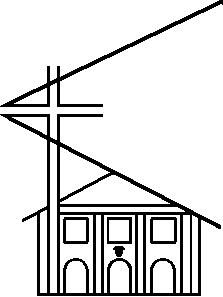 OUTLOOK
Outlook May 2020
From Outlook Reporter, Marion Woodbridge …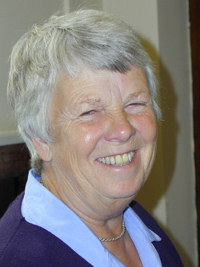 Marion Woodbridge

Lilian Dixon
It was a real pleasure to meet up with Lilian Dixon who started coming to Tilehouse Street in December last year. She had been going back to the Central Methodist Church in Letchworth where she had worshipped for many years, but finally decided she needed to be able to walk to Church. Then came "lock down" so until we met just recently we hadn't got to know each other. Then we discovered that we were in the same form at the Girls school all those years ago - we hadn't realised! We had both changed a lot since 1947 - including our names. Can you imagine how we talked about school and the teachers. Lilian (then Brown) said she was a very quiet girl and particularly the physics teacher who was very sarcastic, rather frightened her.
I asked Lilian to tell me a little more about herself. She was born in her grandmother's tenement flat in Greenock in Scotland as was her older brother. They were very poor and had to share the toilet on the landing with other flat inmates. The family who were members of the Salvation Army, moved to Lincolnshire to improve her father's job prospects, and six years later her younger brother was born here. The family then moved to Stevenage where they were able to rent the Salvation Army officer's quarters, as there was no officer. Lilian never really enjoyed the Salvation Army and at age 15 she joined the Methodist youth club with a school friend and in due course joined the Church in Letchworth.
Whilst still at school Lilian's father decided that she should attend Mullarkey's secretarial college (in Old Park Road, Hitchin) after school in order to learn shorthand and typing, and it was here that she first met Gill Mayes. In due course Mr. Mullarkey gave her home address to the Manager of the Pearl Assurance Company who turned up on the doorstep to offer her, her first job!
Lilian was a secretary for a period at Welwyn Dept. store and then at M & F 0 Foster's in Hitchin where she met Jo Woodbridge (my sister-in-law) In due course Lilian was employed by English Electric Aviation where she met her future husband George.
Her father would much have preferred a Salvation Army lad, but during a stay with his invalid mother in Sussex they became engaged. George belonged to the Church of England so they were married in St. Nicholas church in Stevenage in the deep snow of January 1963. They had four sons, John, Charles, David and several years later Robert. George died in 1995, so sadly never met their 3 grandchildren.
Lilian loves classical music and has been a singer all her life - she sang her first solo in Church at the age of 6 or 7! She sang many Gilbert and Sullivan leads with Lytton Players back in the 1950s and 1960s, and has been with Hitchin Thespians since early married life. It was here that she met Gillian Clough. Unfortunately, she says, following a chest infection in November things have gone vocally downhill!

Victoria Coren Mitchell
and David Mitchell
Who would you like to have a cup of tea with?
Victoria Coren and David Mitchell.
What would you say to them?
I think the discussion would be far ranging and great fun.
What is your earliest memory?
Tipping a kettle of boiling water which was on an open fire onto my arm. I still have the scar!
Who influenced you as a teenager?
My mother. She was always kind and gentle whilst although my father was fun, he was also very strict.

Wolf Hall
What to you enjoy doing when at home?
I used to do lots of knitting and some crochet, but my hands are too arthritic now. I also do mending and darning. I write lots of letters but my writing is not as tidy as it used to be.. I used to do most of the gardening but cannot do that now.
Which book are you reading at the moment?
Wolf Hall by Hilary Mantel. Previously a Wilbur Smith. I use a Kindle now as it is easier for my hands than a heavy book.

Downton Abbey [ITV]
What makes you laugh?
Almost anything. Today's was: Historians in Ireland have discovered what they believe to be the headstone of the world's oldest ever living man. He was 173 and his name was Miles from Dublin. Sorry it's a bit corny, but amused me!
[Boom! Boom! - Web Ed]
Which TV programmes do you watch?
Since 'lock-down' I watch a lot of rubbish! Also Quiz programmes, Downton Abbey and Lewis.
Where would you like to go on holiday?
I went to Switzerland last year, looked out of my bedroom window and could see the Matterhorn. It was beautiful … so Switzerland. Or perhaps Canada
What makes you cross?
Any injustice to people, whatever their colour.
Can you do anything about it?
Do whatever we can where we are
Is there a statement or phrase you try to live by?
Yes - Take life as it comes.
Thank you so much Lilian, it has been lovely meeting you (outside the church sitting on the bench because of Covit-1 9!) 1 hope we will be able to have a cup of tea together sometime soon.
Marion Woodbridge..
---