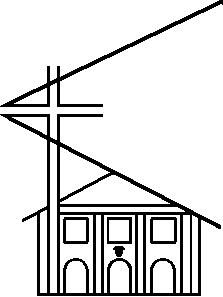 OUTLOOK
Outlook April 2019
From Outlook Reporter, Marion Woodbridge …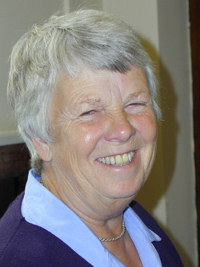 Marion Woodbridge
I had a cup of tea with Barbara Swain and Andrew. We had such an exciting time as we soon began to talk about Barbara's relatives and especially her great, great grandfather James Rennie. I'm sure many people will have heard of him and I remember my mother talking about him, but there are many facts about his life that I had no idea about. Firstly James Rennie was born in Australia in 1851 and to travel home to Scotland by sailing ship called Calcutta Barque was amazing. On that long journey with James just two years old, his mother then gave birth to twins. Can you imagine James running up and down on deck? Nowadays we just have to step on a boat on a river to be told to put a life jacket on. I don't expect James Rennie's family had anything like that!
When James grew up he joined a Colporteur Organisation and was sent first to north Bedfordshire and then on to Hitchin. What, I hear you say, is a colporteur? I had no idea, but learned that it is a person who goes about selling, in James Rennie's case, Bibles and religious tracts which he did from 1877 to 1901. He walked about - wait for it! -20 miles a day around Hitchin and the surrounding villages with his Bibles and tracts in a large case. Unfortunately James had an accident at Hitchin Station and broke his ankle, but he had purchased for him a large three wheeled cycle. I became even more interested because I have two sons-in-law who are keen cyclists. The difference between the modern bikes and James' three wheeled cycle and the bikes ridden by Hitchin cycle Club in 1870, like everything else, has changed so much. 'Famous' people in Hitchin like Francis Shillitoe and Arthur Latchmore were prepared to pay as much as 15 guineas for a bike - a lot of money then. Nowadays people pay £2,000 plus for a good bike, so goodness knows how much Bradley Wiggins and Chris Hoy pay for their 'posh' bikes.
But back to James Rennie; he was very interested in the Temperence Society and the Hitchin Cycle Club met at the Temperence hotel at the end of Bridge Street at the Triangle for refreshment. In a photo I have there are so many chaps and ladies (goodness knows how they got on a bike with those long skirts) outside the hotel. It's a pity I couldn't see James Rennie.
James' Hitchin Market stall was very popular for selling his goods but also for a chat. His market stall suffered in the rain so he then had a bible carriage on wheels which could be pulled by hand or horse.
In the Census of 1881 James and Elisabeth lived at 36 Nightingale Road. They had a son and three daughters and later his daughter Helen married. Barbara's grandmother, and Barbara's mother and father and Barbara too, lived there until the property was sold. (the house is still 17 there, just round the corner from Florence Street). James Rennie retired from his colporteur job and did gardening for people. He died in 1926 and a service was held for him at Walsworth Road Baptist Church. Many people attended the service and spoke movingly of him. Barbara is so proud to be part of his family and to have Wymondley connections.

Mary - orthodox icon
The afternoon had nearly gone but I did have just time to ask Barbara Who would you like to have a cup of tea with?
Oh, Mary the mother of Jesus.
What would you like to say to her?
I would ask her how she managed Jesus as a little boy ... He must have been kind to animals. Then I would ask Mary however did she cope later with all the sadness that happened.
What is your earliest memory?
Living in the house in Nightingale Road. I could go to Bancroft Rec. to play. I also went to the shop over the road for sweets and I remember asking for a shilling change for the gas meter!


Mick Jagger in the 60s
Who influenced you as a teenager?
Oh that was Mick Jagger, Bob Dylan and the BBC programme 'Ready Steady Go'. (It was broadcast before Top of the Pops). I used to dress up for it. Oh I like Folk music - I heard Paul Simon sing at Hitchin Folk Club which is still going today.

Northern lights
Have you a holiday wish?
I would love to see the Northern lights but I would have to go at just the right time to see them.
What do you watch on TV or which books are you reading just now?
I don't read books but I do look up historical things, especially Egypt, on my tablet. I like watching black and white films, and films like 'Far from the Madding Crowd.
What makes you cross?
Mobile 'phones in restaurants and in supermarkets. People with bad manners, and those awful torn jeans - even Jeremy Vine was wearing them on TV.
Can you do anything about it?
No, not much. I hope the torn jeans will soon go out of fashion!
Is there a phrase or saying you try to live by?
Yes - do as you would be done by.
Thank-you so much Barbara and Andrew. What a brilliant afternoon I've had!
Marion Woodbridge..
---