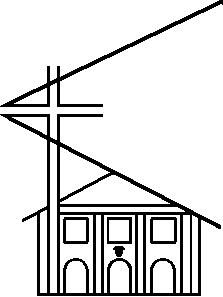 OUTLOOK
Outlook July/ August 2019
From Outlook Reporter, Marion Woodbridge …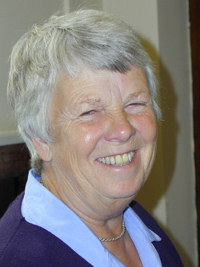 Marion Woodbridge

Brenda Pulham
It was a pleasure to meet and welcome Brenda Pulham and the Rev. Jane's mother, Beryl, for coffee one Saturday morning. Brenda was spending the weekend in Hitchin. It was Pentecost Sunday so she was helping cutting out 'flames' and triangles for Jane! What an opportunity I had to find out more about Brenda, with time to talk.
Brenda was born in Rugby and still lives there. She went to infant and junior school, and then on to Dunsmore School for Girls where she enjoyed the domestic science and maths but she had such trouble reading. In fact she could hardly read, so she was looked upon as stupid and there was no help. It was not until Brenda was 40 that she was diagnosed as dyslexic. Brenda was working as a dinner lady and the school's Head Teacher realised the problem.
Brenda belonged to the Girls' Brigade and when she was a teenager she volunteered to help at a care home. Then, when she left school at 15, she went to work there full time. She learned all sorts of jobs including cooking meals which gave a good basis for later becoming a dinner lady and then Catering Manager for school dinners in the Rugby area. Brenda worked in the School Meals Service for 30 years, but first she married at the age of 20 and had two sons. It became difficult for her to enjoy reading with them so as they began to learn she too began with Janet and John books (my favourites!).
Brenda's marriage was very difficult so after 20 years she left, leaving her boys Neil and Adrian behind. Brenda had nowhere to go so once again GB officers came to help. They said, "Someone called Jane Robson had a house and let rooms to people". Jane was part of Girls' Brigade at Rugby Church; Brenda went to the house and stayed … until today! Whilst married she always kept her GB nights but found it difficult to go to Church. Now she was able to attend services.
Brenda's son Neil, as a teenager, had a bad basket ball accident and had to have a cage put over his head and neck. Whilst he was in hospital Brenda could visit him but when he went home she could not continue seeing him. However, now Brenda has the pleasure of enjoying five grand-children. Brenda is, of course, still a member of Girls' Brigade and is off to camp in Swanage this summer. (I wish I was going as GB camps were huge fun!)
At Rugby Baptist Church Brenda is a deacon, she cooks lunch every Tuesday for the Lunch Club and during the winter months does a shift once a week looking after the 15 homeless people who have meals and sleep over-night. On a rota basis, seven churches in the town take turns, one night a week to provide this valuable service. You can imagine how busy Brenda is, and ofcourse, we haven't mentioned ensuring that Jane's mother is OK.
At the moment moves are afoot to sell the house that Brenda and Jane are living in and to move to a flat which looks very pleasant. I'm sure there are lots of other parts of life we haven't touched on, but it was so good that Brenda was able to share things with us.

The Duchess of Cambridge
Who would you like to have a cup of tea with?
The Duchess of Cambridge - she seems a very down to earth person.
What would you like to talk about?
I would like to ask her how she managed to cope with all the 'royal' requirements. Kate and William were friends at University and then broke it off. Perhaps Kate was thinking about being part of the Royal family - could she manage? She didn't seem to mind getting her hands dirty at the Chelsea Flower Show and her garden was lovely.
What is your earliest memory?
My older sister and I shared a bed and I was jumping on the bed and the end of the bed broke off. I was not popular!

Doing a jigsaw
Who influenced you as a teenager?
Girls' Brigade leaders, especially an officer, Jean Smith. It was so sad when she died young of cancer.
What do you do when at home?
I read, knit squares, do jigsaws, and housework - I like everywhere to look clean and tidy.
Which book are you reading just now?
A book called Lightning by Dan Steel. It is about a woman of 42 with a child aged 4 and she has breast cancer. It is about how she copes. I have also read a book by the same author called "Accident" about family issues - all very good.

Goggle Box
What makes you laugh?
Listening and watching Gogglebox on the Television. People's different comments about programs are so funny.
Where would you like to go on holiday - money no object!?
Well I have been to New Zealand, so I would like to go to Alaska and The Rockies.
What do you like to watch on TV?
'Earth from Space' is really good; also 'Bodyguard'. Detective programs like 'Death in Paradise', that's funny too.
What makes you cross?
Conflicts of all sorts - in the world and between people we know. Oh, and bad drivers.
Can you do anything about it?
Listen to people and shout at bad drivers whilst in the car with the car windows shut!
Do you have a phrase or statement that you try to live by?
Yes - consider others. My grandmother said "One door closes and another one opens" … and it does.
Thank-you so much Brenda. It is always good to see you at Tilehouse Street. Please keep coming — we need you to do cutting out and "Cracker" Saturdays!
Marion Woodbridge..
---