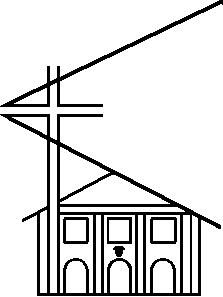 OUTLOOK
Outlook May 2020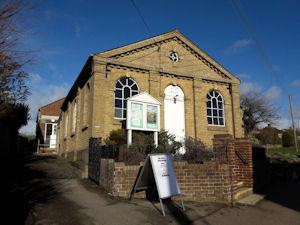 Stondon
I'm sure I won't be alone in thinking what a strange month we've all just been through, and as we move into May we're still trying to find ways to deal with our changed reality. In common with so many churches throughout the UK, virtual services over the Internet have become a regular feature for us here in Stondon.
We've worked our way through the technical hoops of joining a meeting, muting and unmuting microphones, deciding whether to join with just audio or allowing others to see us on video, and not talking over each other. George the spaniel has joined us on a couple of occasions. We haven't had anyone appear in their night attire so far, but give it time! Live music with everyone singing together and able to hear one another has proved especially trouble-some, but we're trying different options with each passing week.
It's just lovely to be able to see each other online, to take part in the service and catch up afterwards. On Good Friday, we held a joint virtual Walk of Witness service with members of Stondon All Saints Church, along with our new friends from the Lighthouse Church, who have been meeting in Stondon village hall since the middle of last year. Showing still photographs of various Stondon landmarks that we would have passed, had we been doing the walk in real life, made it feel very much more of a service for our village, and the event was streamed live on YouTube. We had the opportunity to meet up online afterwards for virtual coffee and hot cross buns – or in my case custard creams. Stondon diary dates for May:
We will continue our virtual services on Sunday mornings throughout May, and until further notice. The services start at 11.00am and everyone is welcome. If anyone would like to join us, please contact Mike Campbell or Andy Banthorpe for an invitation link.
We were due to have visiting preachers on the first and fourth Sundays in May. However, we can't be sure of anything just now, so they may or may not be able to join us. Virtual services present their own challenges, so we will wait and see.
We aim to meet online for prayer on Tuesday evenings between 7.30 and 8.00pm. The beauty of the virtual service is that people can join in from anywhere, without the need to travel or even leave the house. There's also absolutely no excuse for being late either, in theory!
We are often reminded that the church is not just a building, but it is the people who make a church what it is, or what it should be: a place of belonging, a place of safety, a refuge, a sanctuary. Our bible study for Lent was based around the theme of "How to do church". We've had to adapt to not meeting in person inside our physical church building. We have found a new way, a different way of being together as church people, to support and care for one another.
Our church buildings will be there for when we are able to meet again in person. That time will come, but maybe not for a while yet. Until then, all we can do is to look out for one another, support those who may be struggling, whether physically, emotionally or spiritually, and we'll get through this together. That's what church is about. It's not about the building; it's about its people. Even though we have to meet online, physically apart from one another, the words of this beautiful worship song seem strangely appropriate for me just now.
As we are gathered, Jesus is here.
One with each other, Jesus is here.
Joined by the Spirit, washed in the blood,
Part of the body, the Church of God.
As we are gathered, Jesus is here.
One with each other, Jesus is here.
Life goes on outside the confines of our homes and gardens. The grass on Stondon recreation ground is covered with a carpet of white daisies. So many more people are out and about taking their daily exercise. Families walking around the fields together is a far more common sight than ever it was before. The blossom on the trees has been an absolute picture this spring. The pungent scent of lilac is at its peak right now. I walked through an avenue of cowslips today as I discovered a previously unknown footpath.
Two swans have moved in on the small lake in the middle of Mount Pleasant golf course, quite safe from the risk of flying golf balls landing in the water. Andy saw his first swallow for this year up near All Saints Church. In last month's slot, I mentioned the pair of blackbirds building their nest in the ivy hedge in front of our kitchen window. Well, they are now busily feeding their young, so the chicks should be ready to leave the nest maybe in just a few days' time now. Nature is currently having its very own field day - carrying on very nicely, thank you very much - without the usual disturbance from annoying human beings. Until next time, stay safe, and may the Lord bless and keep each one of you in his tender, loving care.
Jean Gough
---