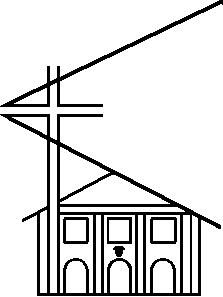 OUTLOOK
Outlook April 2019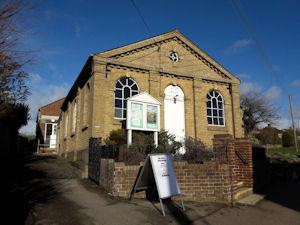 Stondon
Isaiah 43:25 reads:
"I, even I, am he who blots out your transgressions, for my own sake, and remembers your sins no more."
I read this a few days ago on the train, on my way to London St Pancras, and it set me thinking about the different meanings of the word "blot" in the English language. It's often used to describe something bad or negative. The huge wind turbines we see appearing in fields all over the country, alongside roads, and particularly out at sea, are often described as a real blot on the landscape. The expression to "blot your copybook" means you have done something to tarnish your reputation, or put a stain on your character, so that people perceive you in a less favourable light.
On the more positive side, blotting paper dries the ink so that you don't end up with ink stains all over your fingers and hands. (I always found it very satisfying watching ink being absorbed directly from my fountain pen nib into the blotting paper!) We use kitchen roll to "blot" the worst part of a big stain and absorb liquids.
Jesus blots out our transgressions, he absorbs them completely, so that they are no longer even a consideration. They are no longer there; they have been obliterated in God's eyes. Our wrongdoings have been cancelled, wiped away. Jesus did that for each one of us, by his death on the Cross, until He rose again on the third day. That's something for us all to reflect on during this month.
Here are some Stondon diary dates for April 2019:
Tuesday, 2 April, Little Treasures in the Hall, 9.00am to 11.15am. The Lower School breaks up for Easter on Friday 5 April.
Thursday, 4 April, Take a Break Coffee Morning in the Hall, 10.00am to 12.00 noon. Everyone is welcome, whether you are a regular or new to the village.
Sunday 7 April, Communion Service at 10.30am, led by Mike Campbell.
Tuesday 9 April, Little Treasures on their Easter holidays for two weeks.
Sunday, 14 April, service at 10.30am, preacher to be confirmed.
Friday, 19 April, Good Friday Service at 11.00am. The Walk of Witness will leave from the Bird in Hand car park at 10.45am, processing up to Stondon Baptist Church for 11.00am. Hot cross buns and tea/coffee will be served in the Hall after the service. ALL ARE WELCOME.
Sunday, 21 April, Easter Sunday, Communion Service at 10.30am, led by Mike Campbell.
Tuesday, 23 April, Little Treasures meet again in the Hall, 9.00am to 11.15am, for the start of the new Summer school term.
Sunday 28 April, Family Worship at 10.30am, led by Mike Campbell.
This year's Lent Bible Study Course continues on Tuesday evenings from 8.00pm, venue as announced each Sunday in church.
Finally, on behalf of everyone in the Stondon congregation, I would like to send greetings and congratulations to our friends in Tilehouse Street on reaching your 350th year. Happy Anniversary!
Jean Gough
---