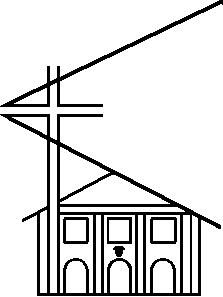 OUTLOOK
Outlook December 2018/ January 2019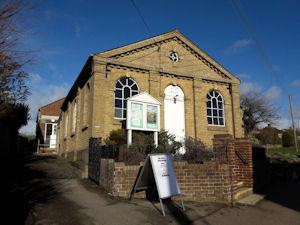 Stondon
It is a crisp winter day, and I have braved the chill in the summerhouse in order to write my Outlook article for December / January. I am looking forward to seeing Eileen and Zarri Bulsara's house and garden in Lower
Stondon festooned throughout with Christmas lights. They will be on for the whole of December right through to Twelfth Night, and they are a beautiful sight to behold. I passed by this morning, the third week in November, and Eileen was already busy untangling strings of lights and making a start on the front of the house. Roll on 1St December!
Looking out onto the lawn, I've just seen a wren scrabbling about in the undergrowth. I hadn't quite appreciated just how small a wren is until a sparrow landed on a twig close by. The sparrow was almost twice its size, and it made me giggle out loud. Despite the distinct chill in the air, a blackbird spent several minutes having a bath in the water dish on the lawn. The sun is shining and, even if the wind does make your eyes water, there are still things to see and appreciate outdoors in winter.
Here are some Stondon diary dates for December 2018:
2 December, the first Sunday in Advent, Communion Service, led by Mike Campbell starting at 10.30am.
Little Treasures meet on 4, 11 and 18 December in the Hall from 9:00 to 11:00. On 11 December, Christmas songs and carols in the Church after the usual play and snacks in the Hall
The last Little Treasures for this year will be on 18 December.
Thursday, 6 December, - our usual Take a Break Coffee Morning, followed by this year's Christmas Buffet.
Even if you can't stay for the buffet, please feel free to pop in as usual between 10:00 and 11:15 in the Hall.
Tickets for the buffet cost £4 per head. Please let Andy or Melissa Banthorpe know as soon as possible if you would like to come.
Sunday, 9 December, we have our usual service starting at 10:30.
Sunday, 16 December, Carol Service from 10:30 followed by coffee/tea and mince pies in the Hall. Please note the time!
Sunday, 23 December, "Service in the Round" in the Hall from 10:30. Everyone is asked to participate in some way, whether it's with a reading, a piece of music, a Christmas recollection, a poem. It's a lovely way to reflect on what Christmas means to each one of us.
Monday, 24 December, Christmas Eve Communion at 23:30, led by Mike Campbell. No service on Christmas Day.
Sunday, 30 December, Joint Worship at Shillington Congregational Church, starting at 10:30.
Here are some Stondon diary dates for January 2019:
Thursday, 3 January, Take a Break Coffee Morning in the Hall.
Drop in for tea or coffee and biscuits any time between 10:00 and 12:00.
Whether you're a regular or you're new to the village,
whether you're older or younger, everyone is welcome.
Sunday, 6 January, Communion at 10:30, led by Mike Campbell.
Monday, 7 January, Church Leaders' Meeting at 20:00, venue TBC.
Little Treasures resumes in the Hall on Tuesday, 8 January 2019, from 09:00 to 11:00am.
We aim to meet for prayer and fellowship on Tuesdays evenings from 20:00,
venue as announced each Sunday in church.
Sunday, 13 and 20 January, services starting as usual at 10:30.
Sunday 27 January, All Age Worship in the Hall, led by Mike Campbell, starting at 10:30.
For the last fortnight or so now, we've seen the elaborate Christmas TV adverts appearing on our screens. Many of them portray families gathered around dinner tables groaning under the weight of Christmas food and drink. Some try to include a thought for people who might be sad or lonely at Christmas. Bright lights and happy faces are all over our screens, depicting a "typical" English Christmas.
We can let our own lights shine and radiate for all to see. Let our sense of anticipation and wonder flow freely as we celebrate and reflect again how Jesus came to be born, to live with us, sent by God. Maybe we won't achieve Peace on Earth this Christmas, but we can each play our own part along the way.
"If it is possible, as far as it depends on you, live at peace with everyone. Romans: 12v18
May God bless each and every one of you, this Christmas and into the coming year. Jean Gough
Jean Gough
---