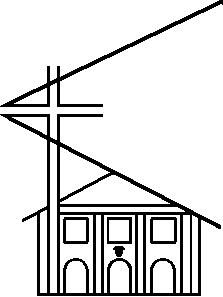 Tilehouse Street Baptist Church, Hitchin
---
30 August 2020
During the Covid-19 emergency each week we'll hold a service as a live interactive meeting using the Zoom online conference facility.
Advance details will be on the Conference Page
We celebrate communion on the first Sunday of each month. If you'd like to join in the communion part of the service, you could supply yourself with bread and wine, or suitable alternatives such as a biscuit and fruit juice.
A recording will be posted on this page following the live session - it may take some time for that to happen, during which time a blank screen will appear. For copyright reasons the songs and music will be listed as separate YouTube clips.
30 August 2020, led by Rev Jane Robson
This video has Closed Caption subtitles - click the button marked 'CC' to turn them off
Suggested Music Items & Bible Readings
You can pause the video above while you watch the song and then restart the video.
Great is Thy faithfulness
https://www.youtube.com/watch?v=dTKIqmdfHSk

Great is Thy faithfulness,
O God my Father
There is no shadow
of turning with Thee
Thou changest not,
Thy compassions, they fail not
As Thou hast been,
Thou forever will be

Great is Thy faithfulness
Great is Thy faithfulness
Morning by morning
new mercies I see
All I have needed
Thy hand hath provided
Great is Thy faithfulness,
Lord, unto me

Summer and winter
and springtime and harvest
Sun, moon and stars
in their courses above
Join with all nature
in manifold witness
To Thy great faithfulness,
mercy and love

Pardon for sin
and a peace that endureth
Thine own dear presence
to cheer and to guide
Strength for today
and bright hope for tomorrow
Blessings all mine,
with ten thousand beside

T.O. Chisholm (1866-1960)
Tune: Faithfulness (W.M. Runyan, 1870-1957)
Prayer and Lord's Prayer
Reading: 1 Peter 2:4-10
Chosen and precious
4 Come to him, a living stone, though rejected by mortals yet chosen and precious in God's sight, and 5 like living stones, let yourselves be built[a] into a spiritual house, to be a holy priesthood, to offer spiritual sacrifices acceptable to God through Jesus Christ. 6 For it stands in scripture:
'See, I am laying in Zion a stone,
a cornerstone chosen and precious;
and whoever believes in him[b] will not be put to shame.'
7 To you then who believe, he is precious; but for those who do not believe,
'The stone that the builders rejected
has become the very head of the corner',
8 and
'A stone that makes them stumble,
and a rock that makes them fall.'
They stumble because they disobey the word, as they were destined to do.
9 But you are a chosen race, a royal priesthood, a holy nation, God's own people,[c] in order that you may proclaim the mighty acts of him who called you out of darkness into his marvellous light.
10
Once you were not a people,
but now you are God's people;
once you had not received mercy,
but now you have received mercy.
Talk
Prayers for Others and Ourselves
Cornerstone
https://www.youtube.com/watch?v=QvLxZEU02uI

My hope is built on nothing less
Than Jesus' blood and righteousness
I dare not trust the sweetest frame
But wholly trust in Jesus' name

Christ alone, Cornerstone
Weak made strong
in the Saviour's love
Through the storm,
He is Lord
Lord of all

When darkness seems to hide His face
I rest on His unchanging grace
In every high and stormy gale
My anchor holds within the veil
My anchor holds within the veil

When He shall come with trumpet sound
Oh may I then in Him be found
Dressed in His righteousness alone
Faultless stand before the throne

Eric Liljero, Reuben Morgan,
Edward Mote, Jonas Myrin
© Hillsong
Blessing
---