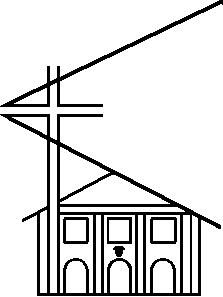 Tilehouse Street Baptist Church, Hitchin
---
4 OCtober 2020
During the Covid-19 emergency each week we'll hold a service as a live interactive meeting using the Zoom online conference facility.
Advance details will be on the Conference Page
We celebrate communion on the first Sunday of each month. If you'd like to join in the communion part of the service, you could supply yourself with bread and wine, or suitable alternatives such as a biscuit and fruit juice.
A recording will be posted on this page following the live session - it may take some time for that to happen, during which time a blank screen will appear. For copyright reasons the songs and music will be listed as separate YouTube clips.
4 October 2020, led by Rev Jane Robson
This video has Closed Caption subtitles - click the button marked 'CC' to turn them off
Order of Service with suggested Music Items & Bible Readings
You can pause the video above while you watch the song and then restart the video.
Welcome
Call to worship
Hymn: Alleluia! Sing to Jesus
https://www.youtube.com/watch?v=Wh61poqcnpA
Alleluia! Sing to Jesus,
His the sceptre, His the throne
Alleluia! His the triumph,
His the victory alone
Hark! The songs of peaceful Zion
thunder like a mighty flood.
Jesus out of every nation
hath redeemed us by his blood.


Alleluia! Alleluia!
Glory be to God on high.
Alleluia to the Saviour
Who has won the victory;
Alleluia to the Spirit,
Font of love and sanctity;
Alleluia! Alleluia!
To the triune majesty.

W.C. Dix (1837-98)
Tune: Hyfrydol (R.H. Richards, 1811-87)
Prayer and Lord's Prayer
The usual, as yet unknown, something...
Behold the lamb who bears our sins away
https://www.youtube.com/watch?v=ACHPwx7EGQA

Behold the Lamb
who bears our sins away,
Slain for us: and we remember:
The promise made
that all who come in faith
Find forgiveness at the cross.
So we share in this Bread of life,
And we drink of His sacrifice,
As a sign of our bonds of peace
Around the table of the King.

The body of our Saviour, Jesus Christ,
Torn for you: eat and remember
The wounds that heal,
the death that brings us life,
Paid the price to make us one.
So we share in this Bread of Life,
And we drink of His sacrifice
As a sign of our bonds of love
Around the table of the King.

The blood that cleanses every stain of sin,
Shed for you: drink and remember
He drained death's cup
that all may enter in
To receive the life of God.
So we share in this Bread of Life,
And we drink of His sacrifice,
As a sign of our bonds of grace
Around the table of the King.

Long instrumental

And so with thankfulness and faith
We rise to respond: and to remember
Our call to follow in the steps of Christ
As His body here on earth.
As we share in His suffering,
We proclaim: Christ will come again!
And we'll join in the feast of heaven
Around the table of the King.

Words and music by Keith & Kristyn Getty & Stuart Townend
© 2006 Thankyou Music/ admin Kingsway Music
Reading: Mark 1:21-34
Read by John Edwards
The Man with an Unclean Spirit
21 They went to Capernaum; and when the sabbath came, he entered the synagogue and taught. 22 They were astounded at his teaching, for he taught them as one having authority, and not as the scribes. 23 Just then there was in their synagogue a man with an unclean spirit, 24 and he cried out, 'What have you to do with us, Jesus of Nazareth? Have you come to destroy us? I know who you are, the Holy One of God.' 25 But Jesus rebuked him, saying, 'Be silent, and come out of him!' 26 And the unclean spirit, throwing him into convulsions and crying with a loud voice, came out of him. 27 They were all amazed, and they kept on asking one another, 'What is this? A new teaching—with authority! He commands even the unclean spirits, and they obey him.' 28 At once his fame began to spread throughout the surrounding region of Galilee.
Jesus Heals Many at Simon's House
29 As soon as they left the synagogue, they entered the house of Simon and Andrew, with James and John. 30 Now Simon's mother-in-law was in bed with a fever, and they told him about her at once. 31 He came and took her by the hand and lifted her up. Then the fever left her, and she began to serve them.
32 That evening, at sunset, they brought to him all who were sick or possessed with demons. 33 And the whole city was gathered around the door. 34 And he cured many who were sick with various diseases, and cast out many demons; and he would not permit the demons to speak, because they knew him.
Talk
Prayers for ourselves and others
Song: Jesus Christ is waiting
https://www.youtube.com/watch?v=i72yd5L-bXM
Jesus Christ is waiting,
Waiting in the streets;
No one is his neighbour,
All alone he eats.
Listen, Lord Jesus,
I am lonely too.
Make me, friend or stranger,
Fit to wait on you.

Jesus Christ is raging,
Raging in the streets,
Where injustice spirals
And real hope retreats.
Listen, Lord Jesus,
I am angry too.
In the Kingdom's causes
Let me rage with you.

Jesus Christ is healing,
Healing in the streets;
Curing those who suffer,
Touching those he greets.
Listen, Lord Jesus,
I have pity too.
Let my care be active,
Healing just like you.

Jesus Christ is dancing,
Dancing in the streets,
Where each sign of hatred
He, with love, defeats.
Listen, Lord Jesus,
I should triumph too.
Where good conquers evil
Let me dance with you.

Jesus Christ is calling,
Calling in the streets,
"Who will join my journey?
I will guide their feet."
Listen, Lord Jesus,
Let my fears be few.
Walk one step before me;
I will follow you.

Iona Community
Tune: Nöel nouvelet (French Trad Carol)
Blessing
---