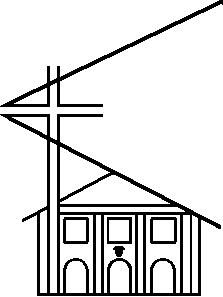 Tilehouse Street Baptist Church, Hitchin
---
This week's recording
During the Covid-19 emergency each week we'll hold a service as a live interactive meeting using the Zoom online conference facility.
Advance details will be on the Conference Page
A recording will be posted on this page following the live session - it may take some time for that to happen, during which time a blank screen will appear. For copyright reasons the songs and music will be listed as separate YouTube clips.
11 April 2021, worship led by Bob Little
This week's recording will appear below. If it's not there check back later.
This video has Closed Caption subtitles - click the button marked 'CC' to turn them off
Last week's Recording is available at the foot of the page.
Order of Service with suggested Music Items & Bible Readings
Welcome
Call to worship
Jesus is King
And I will extol Him
Give Him the glory
And honour His name
He reigns on high
Enthroned in the heavens
Were thou the Father
Exalted for us

We have a hope
That is steadfast and certain
Gone through the curtain
And touching the throne
We have a Priest
Who is there interceeding
Pouring His grace
On our lives day by day

We come to Him
Our Priest and Apostle
Clothed in His glory
And bearing His name
Laying our lives with
Gladness before Him
Filled with His Spirit
We worship the King

Oh, Holy One
Our hearts do adore You
Thrilled with Your goodness
We give You our praise
Angels in light with
Worship surround Him
Jesus our Saviour
Forever the same

Word & music: Wendy Churchill
© 1981 Springtide/ World Music (UK)
Song: Jesus is King and I will extol Him
https://www.youtube.com/watch?v=mrb_NBeL7fE


Jesus is King and I will extol Him
Prayer and Lord's Prayer
Arriving whee we started
Thou art the Way: by thee alone
from sin and death we flee;
and he who would the Father seek,
must seek him, Lord, in thee.

Thou art the Truth: thy Word alone
true wisdom can impart;
thou only canst inform the mind,
and purify the heart.

Thou art the Life: the rending tomb
proclaims thy conquering arm,
and those who put their trust in thee
nor death nor hell shall harm.

Thou art the Way, the Truth, the Life:
grant us that Way to know,
that Truth to keep, that Life to win,
whose joys eternal flow.

Words: George W. Doane (1799-1859)
Tune: St James (R. Courteville, 1677-1772)
Hymn: Thou art the way, by Thee alone
Reading: Luke 24:13-35
The Walk to Emmaus
13 Now on that same day two of them were going to a village called Emmaus, about seven miles from Jerusalem, 14 and talking with each other about all these things that had happened. 15 While they were talking and discussing, Jesus himself came near and went with them, 16 but their eyes were kept from recognizing him. 17 And he said to them, 'What are you discussing with each other while you walk along?' They stood still, looking sad. 18 Then one of them, whose name was Cleopas, answered him, 'Are you the only stranger in Jerusalem who does not know the things that have taken place there in these days?' 19 He asked them, 'What things?' They replied, 'The things about Jesus of Nazareth, who was a prophet mighty in deed and word before God and all the people, 20 and how our chief priests and leaders handed him over to be condemned to death and crucified him. 21 But we had hoped that he was the one to redeem Israel. Yes, and besides all this, it is now the third day since these things took place. 22 Moreover, some women of our group astounded us. They were at the tomb early this morning, 23 and when they did not find his body there, they came back and told us that they had indeed seen a vision of angels who said that he was alive. 24 Some of those who were with us went to the tomb and found it just as the women had said; but they did not see him.' 25 Then he said to them, 'Oh, how foolish you are, and how slow of heart to believe all that the prophets have declared! 26 Was it not necessary that the Messiah should suffer these things and then enter into his glory?' 27 Then beginning with Moses and all the prophets, he interpreted to them the things about himself in all the scriptures.
28 As they came near the village to which they were going, he walked ahead as if he were going on. 29 But they urged him strongly, saying, 'Stay with us, because it is almost evening and the day is now nearly over.' So he went in to stay with them. 30 When he was at the table with them, he took bread, blessed and broke it, and gave it to them. 31 Then their eyes were opened, and they recognized him; and he vanished from their sight. 32 They said to each other, 'Were not our hearts burning within us while he was talking to us on the road, while he was opening the scriptures to us?' 33 That same hour they got up and returned to Jerusalem; and they found the eleven and their companions gathered together. 34 They were saying, 'The Lord has risen indeed, and he has appeared to Simon!' 35 Then they told what had happened on the road, and how he had been made known to them in the breaking of the bread.
Talk - "Jesus himself drew near"
Prayers for others and ourselves
Song: Christ triumphant
---