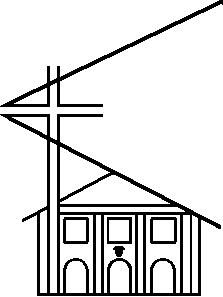 Tilehouse Street Baptist Church, Hitchin
---
This week's recording
During the Covid-19 emergency each week we'll hold a service as a live interactive meeting using the Zoom online conference facility.
Advance details will be on the Conference Page
We celebrate communion on the first Sunday of each month. If you'd like to join in the communion part of the service, you could supply yourself with bread and wine, or suitable alternatives such as a biscuit and fruit juice.
A recording will be posted on this page following the live session - it may take some time for that to happen, during which time a blank screen will appear. For copyright reasons the songs and music will be listed as separate YouTube clips.
25 October 2020, led by Rev Jane Robson
There were some technical problems during the service, so the recording has some interruptions to the picture. Our apologies.
This week's recording will appear below. If it's not there check back later.
This video has Closed Caption subtitles - click the button marked 'CC' to turn them off
Last week's Recording is available at the foot of the page.
Order of Service with suggested Music Items & Bible Readings
You can pause the video above while you watch the song and then restart the video.
Welcome
Call to worship
Hymn: To God be the glory
https://www.youtube.com/watch?v=2CeBoSQsBR0

To God be the glory,
great things he has done!
So loved he the world
that he gave us his Son,
who yielded his life
an atonement for sin,
and opened the life gate
that we may go in.

Chorus:
Praise the Lord, praise the Lord,
let the earth hear his voice!
Praise the Lord, praise the Lord,
let the people rejoice!
O come to the Father
through Jesus the Son,
and give him the glory,
great things he has done!

O perfect redemption,
the purchase of blood!
To ev'ry believer
the promise of God;
the vilest offender
who truly believes,
that moment from Jesus
forgiveness receives.

Great things he has taught us,
great things he has done,
and great our rejoicing
through Jesus the Son;
but purer and higher
and greater will be
our wonder, our transport,
when Jesus we see.

Frances van Alstyne (1820-1915)
Tune: To God be the glory (W.H. Doane, 1832-1915)
Bible Sunday
We watched the following video from The Bible Society
https://www.youtube.com/watch?v=fVpL7QP-YFE
Prayers and Lord's Prayer
Reading: Mark 1:35-45
A Preaching Tour in Galilee
35 In the morning, while it was still very dark, he got up and went out to a deserted place, and there he prayed. 36 And Simon and his companions hunted for him. 37 When they found him, they said to him, 'Everyone is searching for you.' 38 He answered, 'Let us go on to the neighbouring towns, so that I may proclaim the message there also; for that is what I came out to do.' 39 And he went throughout Galilee, proclaiming the message in their synagogues and casting out demons.
Jesus Cleanses a Leper
40 A leper came to him begging him, and kneeling he said to him, 'If you choose, you can make me clean.' 41 Moved with pity, Jesus stretched out his hand and touched him, and said to him, 'I do choose. Be made clean!' 42 Immediately the leprosy left him, and he was made clean. 43 After sternly warning him he sent him away at once, 44 saying to him, 'See that you say nothing to anyone; but go, show yourself to the priest, and offer for your cleansing what Moses commanded, as a testimony to them.' 45 But he went out and began to proclaim it freely, and to spread the word, so that Jesus could no longer go into a town openly, but stayed out in the country; and people came to him from every quarter.
Talk
Prayers for others and ourselves
Whilst praying we looked at some photos (opens in a new window. Close window after prayer): https://photos.app.goo.gl/wyKyydas65AitZyT7
Song: Beauty for brokenness
https://www.youtube.com/watch?v=3kVHKuldZyw

Beauty for brokenness
Hope for despair
Lord, in the suffering
This is our prayer
Bread for the children
Justice, joy, peace
Sunrise to sunset
Your kingdom increase!

Shelter for fragile lives
Cures for their ills
Work for the craftsman
Trade for their skills
Land for the dispossessed
Rights for the weak
Voices to plead the cause
Of those who can't speak

Chorus:
God of the poor
Friend of the weak
Give us compassion we pray
Melt our cold hearts
Let tears fall like rain
Come, change our love
From a spark to a flame

Refuge from cruel wars
Havens from fear
Cities for sanctuary
Freedoms to share
Peace to the killing-fields
Scorched earth to green
Christ for the bitterness
His cross for the pain

Rest for the ravaged earth
Oceans and streams
Plundered and poisoned
Our future, our dreams
Lord, end our madness
Carelessness, greed
Make us content with
The things that we need

Lighten our darkness
Breathe on this flame
Until your justice burns
brightly again
Until the nations
Learn of your ways
Seek your salvation
And bring you their praise

Graham Kendrick (b. 1950)
Copyright © 1993 Make Way Music,
Blessing
Last Week's Recording
---