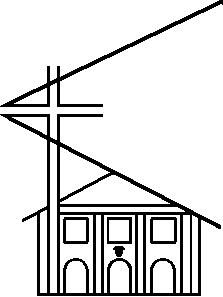 OUTLOOK
Outlook February 2020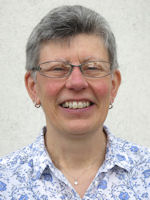 Minister's Letter
Dear Friends,

Terry Pratchett
Last night at Rock Choir I was asked a question. This morning in the magazine The Week I read a quote from the Wit & Wisdom column. Somewhat unconnected at first sight, but as I sit down to write I find a theme linking those two things. Let me share the quote with you first.
"The presence of those seeking the truth is infinitely to be preferred to the presence of those who think they've found it." Terry Pratchett, quoted in The Independent
The question was about the nativity set on the window sill in church. "Why is it still there on January 21st?"
I know it seems hard to believe but February 26th will mark the start of Lent; it will be Ash Wednesday. And we will begin, once more, to prepare to commemorate the death of our Lord and Saviour on the cross at Calvary and celebrate his victory over death three days later. We will be challenged to focus again on the forty days Jesus spent in the wilderness and his abstinence and how that should impact on our lives today. (One of the recent Call the Midwife episodes was set during Lent and we saw various characters trying to 'give up for Lent' chocolate, cigarettes, cake ... with not a lot of success!)
But the quote and the question have led me to reflect on the other aspect of Jesus' withdrawal from every day life. Not his discipline in denial but his searching after truth; his questioning. Who am I? What is my calling? What is most important in my life? Who do I serve? How will I carry out the will of my Father? Jesus knew the importance of asking questions. He knew that such things needed to be struggled with and the answers not taken for granted. And throughout his earthly ministry he continued to reflect and develop and grow as others asked questions of him and challenged his decisions.
Of course, we know too that in John 14 it is recorded that Jesus said, "I am the way, the truth and the life" and in a multi-cultural, multi-faith society I believe that to be a central tenet of our Christian faith. But that shouldn't stop us asking questions about what it means; it shouldn't stop us from being open to hear others' points of view. Otherwise we are in danger of becoming narrow-minded and bigoted.
George Rawson captures that need for an open mind in his hymn of which this is the first verse:
"We limit not the truth of God to our poor reach of mind,
By notions of our day and sect, crude, partial and confined.
Now let a new and better hope within our hearts be stirred:
The Lord hath yet more light and truth to break forth from His Word."
And that's one of the many benefits of engaging with a small group. If you haven't yet joined the group that meets on a Tuesday afternoon at the house of Gill Mayes or the group that meets on a Friday morning in the Bunyan Room or the one that meets on a Saturday morning also in the Bunyan Room then let me encourage you to contact Gill, Mary Taylor or John Maguire and find the one that suits you. Asking questions enables us to go deeper with God, deeper in our faith. Perhaps one of the ecumenical Lent groups might be worth seriously considering this year?
So, let me come back to the question and its connection with the quote. I found that as I tried to answer my enquirers that I only had half an answer. I could tell them that in the tradition of the Church that we were still remembering the events of Christmas and would do so until the festival called Candlemas. What I couldn't remember was what Candlemas commemorated! I needed to do some research and ask my own question.

Presentation of Jesus in the temple
What is Candlemas?
The answer? Candlemas is celebrated on 2 February, 40 days after the birth of Jesus, to remember when Mary went to the Temple in Jerusalem for ritual purification. Mary and Joseph also presented their baby son to God as an act of thanksgiving and met the prophets Simeon and Anna, prophets who were waiting for God to send his Messiah, his special messenger. They saw the baby Jesus, but they also saw so much more.
A question was asked and in finding out the answer I saw so much more. My prayer is that we will all continue to ask questions and to seek truth because I know that "The Lord hath yet more light and truth to break forth from His Word."
Every blessing as you continue to search and ask questions of God and of one another,
Every blessing,
Jane

Candlemas
---