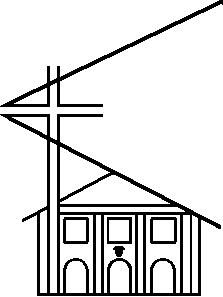 OUTLOOK
Outlook April/ May 2022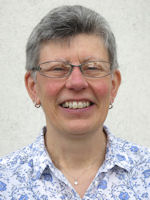 Minister's Letter
[The Lord says] "Forget the former things; do not dwell on the past.
See, I am doing a new thing!
Now it springs up; do you not perceive it?" [Isaiah 43:18-19]
Dear Friends
As I write, the news is full of the terrible invasion of Ukraine and all the misery associated with it. But I have no idea when you read this what the situation will be, and much will have been said and written elsewhere during the days between my writing and your reading and so there seems little point in making much comment now. But what is relevant at any time are the feelings of uncertainty, of hope and of fear of what the future will hold.
Not dissimilar feelings and questions that the disciples would have faced on what we now know as Good Friday. All their hopes and dreams for the future had come crashing down around them as they saw their longed-for Messiah arrested and crucified. What would the future hold for them now? Their lives were still in danger, their leader – their friend – had died, a cloud of depression settled over them as they sought comfort in each other's company. But the story does not end there as we will celebrate once again on Easter Day. Death was not the end. Three days later Jesus rose from the dead, defeating death, breaking the power of sin over our lives and restoring the relationship between us and God. In Jesus there is resurrection. The night always gives way to the breaking of the dawn. Hallelujah.
But we have to live through the night to come to the dawn. All of us know that in our own lives. Whether we are in the valley of the shadow of death at the moment, are fearful of heading into one shortly or, wonderfully, are coming out the other side, we all face times of darkness. In those moments more than any other we need to keep looking for the light of Christ but there are no shortcuts through or detours round our valleys.
And so although we celebrate the joy of Easter resurrection (do join me at dawn at 6 a.m. in front of the church if you can) we need to make sure that we do not avoid walking through the valley of Holy Week. Make sure you participate in as many times of gathering as you can that week. For then the dawn of Easter Day will shine that much more brightly in our lives.
I'm watching the Winter Paralympics at the moment and although the time difference means that I don't see much live action nevertheless I have managed to 'catch-up' on the action from the visually impaired down-hill skiers. Such faith and trust these skiers have in their guides. Neil Simpson and Millie Knight celebrating their achievements, their joy of gold and bronze medals respectively. But there was no shortcut to winning those medals. Skiing, basically, in the dark they kept focused on those who sought to lead them through.
What a great picture of our God of whom the psalmist wrote, "Even though I walk through the darkest valley, I will fear no evil, for you are with me…" (Psalm 23:4 NIV). Bringing us through. I have heard Italian-American preacher, Tony Campolo, on more than one occasion (which was always a joy) but of all the wonderful truths he shared it is this one that he borrowed from another preacher that has stayed with me: "It's Friday – but Sunday's comin'!" The night always gives way to the breaking of the dawn.
Hallelujah!
Every blessing,
Jane
---
Meg's 80th birthday
---
A place at the table
This is the poem Jane read out at communion on 6th March
For everyone born, a place at the table,
for everyone born, clean water and bread,
a shelter, a space, a safe place for growing,
for everyone born, a star overhead.

For woman and man, a place at the table,
revising the roles, deciding the share,
with wisdom and grace, dividing the power,
for those in between, a system that's fair.

For young and for old, a place at the table,
a voice to be heard, a part in the song,
the hands of a child in hands that are wrinkled,
for young and for old, the right to belong.

For just and unjust, a place at the table,
abuser, abused, with need to forgive,
in anger, in hurt, a mindset of mercy,
for just and unjust, a new way to live.

For everyone born, a place at the table,
for everyone born, the right to be free,
and God will delight when we are creators
of justice and joy, compassion and peace.

Shirley Erena Murray (Adapted), Words © 1998 Hope Publishing Company
---