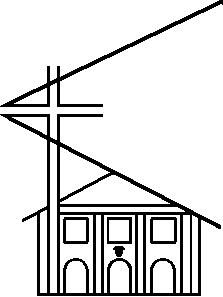 OUTLOOK
Outlook July/August 2020
Church Family

Congratulations to Eileen Smith who celebrates her 90th birthday on 20th July. Have a lovely day - with love from all of us at T.H.S. I don't have everyone's birthday, but I know that Gill Mayes has a birthday in July and Kath Melot celebrates her birthday in August. Happy Birthday to anyone else who celebrates their birthday in either July or August.
I had a lovely chat with Mary Brown who is missing everyone, but sends her love. She told me that she has a visit from two pigeons at tea times and they cheer her up!! Jean Shadbolt and Mary keep in touch on the 'phone.
Judith Hanna unfortunately had her surgery delayed again and as yet does not have another date.
Jean Morley has been struggling again lately and has been in and out of hospital recently. In spite of all this, she has managed to knit 19 hats for the Rosie Hospital! Well done Jean, and well done to lots of other people who have been knitting squares.
Margaret Piggott hasn't been so well lately. Please remember Margaret and Rod and also their daughter-in-law Amanda.
We are glad to learn that Brenda Mallett's great-nephew has improved slightly and has now been moved to Queen's Square Hospital in London.
We remember those in Residential Care Homes - Ann Moody's Mother Rosemary in Elmside, and Kath Melot, Jean Shadbolt and (Pam Slade's sister) Beatty Wood in Foxholes. Beatty recently had a fall which has shaken her confidence and is now having to use a wheelchair. We also remember Hilda Miller who lives in Park House, and Jane's mother Beryl in Rugby.
Foxholes Residential Care Home was featured on the television Evening News on 14th June. Jean Shadbolt actually spoke to the Prime Minister, Boris Johnson who asked her what she was doing. Jean told him she was playing Scrabble. She said that she called him 'Boris'!!
We are sad to learn that Parmar's wife's sister passed away recently. Our condolences and sincere sympathy to her and all the family at this sad time.
We continue to remember in our prayers Anne Moody, Carol Ward and Paul Chamberlain who are all working in Education at this difficult time.
We continue to pray for Jane and the Deacons as they try to plan for the future and do what is best for the Church Fellowship.
And we again thank the "Zoom" Team for enabling us to keep together in fellowship and worship in these difficult times.
Also we thank Gill for all her work in producing Outlook these past 25 years! Well done! …and we wish her a very happy retirement from this.
As we gradually come out of 'lock-down' many of our fellowship are finding it hard to come out again for the first time in many weeks, indeed months. May they know God's love surrounding them. It's good to know that Dorothy Browne is back playing golf, and I've managed to get back to Horse Riding! However it is still very strange out there, so we need to continue to show love and concern for one another.
Val Chivers, Pastoral Care Organiser.
A few words from the lovely little Book of Hope which Jane gave us….
"I look to the hills but where does my help come from?
My help comes from the Lord who made heaven and earth."
Psalm 121: 1-2
'I hold on to these verses when I am feeling anxious or afraid.
They remind me that God is with me and He is my helper.'
Rebecca, New Hope Staff.
---