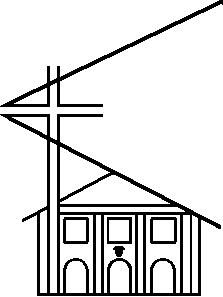 OUTLOOK
Outlook Mar/Apr 2021
Church Family

Spring flowers
As I write this, there is beautiful sunshine. Letís hope the cold and frosts are now behind us. March should bring us warmer days and spring flowers as we head toward Easter. By now, everyone over 70 will have been offered at least the first of the two vaccines and this certainly feels like one step nearer to new beginnings, especially as March 23rd marks the anniversary of the first lockdown. Talking of anniversaries, 1st April marks five years since Jane became our minister. A big thank you must go to her for all her hard work. We continue to pray for her, especially in this difficult time, as she and the deacons continue to plan a way forward.
We also thank two members of the church for their service. Eileen Smith had looked after the pulpit supply and arranged for our organists for about 15 years and Janette Westell, who joined the flower team when Evelyn Brown was in charge and Lewis Waugh was our minister, worked in the team for about 40 years. We are very grateful for their long and conscientious service. [See picture below - Ed]
We pray for:
those of our fellowship who live alone and are feeling lonely
those known to us in care homes and for the staff caring for them
those who have been or are unwell
those waiting for hospital appointments
those finding the lockdown particularly difficult
those who have been recently bereaved
We remember too:
those working hard in our NHS
those enabling the coronavirus vaccine to be rolled out efficiently
those working in education
parents and guardians struggling with home-schooling
children struggling with home-schooling
other key-workers such as posties, supermarket staff, refuse collectors, delivery drivers
We thank God for:
Foodbanks and other food hubs
Feed Up, Warm Up
and pray that they may be able to continue to support people as the demands for their services rise. We give thanks for our church and pray for its future as we reflect on our Saviourís death on the cross and his rising again three days later.
He is risen Ė Hallelujah!
Val Chivers, Pastoral Care Organiser.
---
Correspondence


Sheila wrote:
"We had an enjoyable, if cold, conversation with Janette and Ralph Westell this morning as we took round the flowers from Church for Janette on the occasion of her retiring from the flower rota."
---