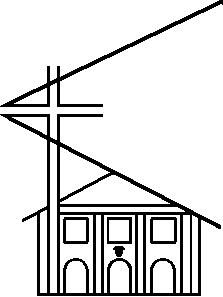 OUTLOOK
Outlook May 2020
Church Family
First of all - many friends are celebrating birthdays this month ... and Dorothy Chamberlain will be 99! on the 21st.
Others celebrating throughout the month are Hilary Womwell, Joyce Bleasby, Maralyn Clarke, Nickie Woodbridge, Debs Maguire and Pam Slade. We wish them all a very happy birthday!
Also congratulations to Josh Russell (son of Kate and Mark Russell and grandson of Margaret and Roy Deller!) and his wife Sarah on the birth of their baby daughter Shiloh on Easter Monday.
At this particular time we think of all front-line workers, especially Daniel Edwards who works for Royal Mail, Marion Woodbridge's daughter Gilly at the Rosie Hospital and son-in-law Bob - a paramedic, and Alison Anderson working in Intensive Care at the Lister Hospital. It's good to know that Alison's husband Steve is much better.
Lillian Dixon's son John is now recovering slowly but surely from the virus, but Lillian's friend Ena (who was her bridesmaid) sadly passed away. Lillian however has been using some of her time to knit HEARTS for Lister Hospital and deserves a 'well done' for this!
Judith Hanna is still struggling and unfortunately lost her sister-in-law Beryl earlier in April.
Anne Howard, Chair person of the World Day of Prayer Hitchin group, and her husband Graham very sadly lost their son Alan who was 34 and who died on the 15th April having suffered with an illness over the years.
Anne Moody's brother is improving slowly and her mother Rosemary is now back at Elmside. She is able to sit in a chair and eat small meals, and also, Anne managed to speak to her on the phone. Anne is still helping some year 11 students and supporting them at this difficult time. Anne thanks everyone for their continued prayers.
We are so glad that Pauline Edwards continues to recover well following her operation, although sorry to have just heard that she had a fall recently.
Diana Drake (née Rainbow) recently had a fall and has broken her arm in three places. With her on-going disabilities, she is unable to cope on her own and has moved in with a friend who is caring for her. Audrey Jenkins is now home from a short spell in hospital and is making good progress.
We are sad to record the death of Martin Wingstedt. He died in Foxholes on the 25th April and we are glad that his two daughters, Annalie and Barbara were both able to be with him. We also give thanks for the good care he received from the staff at Foxholes. Please remember Annalie and Barbara in your prayers.
We think of all those in Residential Homes, especially remembering Kath Melot, Jean Shadbolt, Pam Slade's sister Beatty Wood and Gill Mayes' sister-in-law who is now in a Care Home in Shefford. At a time when they cannot receive visits from family and friends, we remember all those who are caring for them. We continue to remember our Deacons as, with Jane, they plan to do what is best for us at this time. A big 'thank-you to the team who have worked so hard setting up the "Zoom Meetings" for us, and to all pastoral care workers for working hard to keep our Church family together at this time. There are many friends within our church family who are finding it difficult to cope with the current situation or who are struggling with health issues and
I know they will all value our prayers. So let us continue to keep each other in our thoughts and prayers, and may we know the love of God surrounding us all.
Val Chivers, Pastoral Care Organiser.
P.S. If anyone is stuck for shopping, The Red Lion Pub at Offley has now been turned into a lovely shop - a General Store and very nice!
---