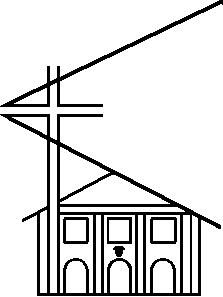 OUTLOOK
Outlook Jan/Feb 2021
Church Family
Now we are into 2021 or just!
Christmas is just behind us, a very different one for most, if not all of us, but hopefully you have been able to catch up with your families and found some love, joy and hope in the festive season as we've celebrated Jesus' birth.
As we begin a New Year let us pray for each other and for our church here at Tilehouse Street and that with the promise of a vaccine, 2021 will be a better year for all of us.
In January we focus our prayers and thoughts on Churches Together in Hitchin as they strive to proclaim the love of God and work together in the community.
In our own fellowship we continue to remember and pray for:
those known to us in care homes
Malcolm and Brenda Mallet
Judith and Austin Hanna and their family
May they know that "The eternal God is your refuge, and underneath are the everlasting arms" (Deuteronomy 33:27).
As we come to February, we pray and give thanks for our minister Jane and the deacons, especially Sheila our secretary and Andy our treasurer.
We also give thanks for
our fabric team, Sam and Malcolm,
for Sue and others who distribute flowers,
for Mary Taylor, Joyce Bleasby and John Maguire who lead our prayer meetings,
and for all who carry out pastoral care in the name of the church.
Towards the end of February, as we see perhaps the first snowdrops budding, we look ahead to the World Day of Prayer service which will take place on the first Friday in March (5th). This year the theme is "Build on a Strong Foundation" and will be written by and focus on the country of Vanuatu. Pray for those from the different churches in Hitchin who will lead and take part in the service.
It is due to held in St Mary's, but that will depend on the Covid restrictions in place at the time!
Please also pray for the country of Vanuatu.
Finally, a little poem for the time of year, written by Iris Hesselden
Winter isn't all that dreary
See the sunshine on the frost
Feel excitement in the music
Magic never to be lost
Share your love with those around you
Brother, sister, mum and dad
Warming hearts and lifting spirits
'Tis the season to be glad.
Val Chivers, Pastoral Care Organiser.
---
Correspondence


Thank you to all who made my 20 x 4 birthday a truly memorable event despite Covid. I now qualify to join the ranks of the wise women of THS or do I? That's for you to decide

Again sincere thanks
Mary Taylor
---