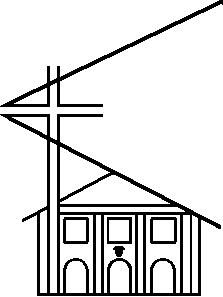 OUTLOOK
Outlook February 2020
Church Family
Sadly Ken Smith passed away on 25th December and the Rev. Jane conducted the service of Thanksgiving for his life on the 13th January 2020. We continue to remember particularly Eileen Smith, son Barry, daughter Carol and all the family at this sad time.
Friends will also be sad to know that Stan Smith passed away at the grand age of 102. He was living in a Care Home near his daughter in Frinton-on-Sea. The Rev. Jane is taking the Service of Thanksgiving for his life on 28th January in Clacton. Again, we remember particularly his daughter Diana and also members of Stan's extended family.
We were sorry to learn that Jean Ireland has been very unwell with a chest infection. Although she is better now, she is still not 100%.
Robyn Shelford-Clarke's Grandma, Pamela Grey has been in Bishop's Stortford for rehabilitation following a stroke but is now happy to be back home. Alison Doggrell's husband Ken is now doing very well following his stroke, and is even managing the stairs!
Doreen Donovan who tends our Church garden, was due to go into Pinehill Hospital on 25th January for a knee replacement. Sadly for her this was cancelled and now she will hopefully have this operation on the 29th February.
We continue to remember Margaret and Rod Piggott and particularly their daughter-in-law Amanda, and also Jenny Smyth, Hilda Miller, Kath Mellot, Jean Shadbolt, Pam Slade, Jean Morley and Janette Westell.
Before Christmas the Rev. Jane and I took communion to a few people who now cannot get to church - Hilda Miller, Margaret and Rod Piggott and Pam Williams.
We wish Anne Moody A VERY HAPPY BIRTHDAY as she celebrates her 60th birthday on the 15th February!
It was good to celebrate with Daniel Edwards on his 50th birthday. His sister Ruth, who took these photographs, pointed out that he really was 50 and not 5 as the photograph might suggest! Special guest, Jean Morley was the midwife who delivered Daniel all those years ago!
Val Chivers, Pastoral Care Organiser.
---