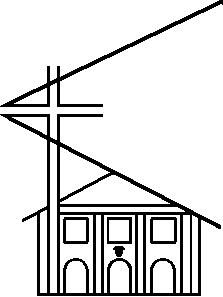 OUTLOOK
Outlook September/ October 2021
Church Family
I was at a village fete recently and the band was playing the hymn We plough the fields and scatter. It tells us that the seed has been sown, fed and watered and now the fields are golden with corn and harvest is just around the corner. The hymn tells us that "All good gifts around us are sent from heaven above" and we are to thank The Lord for all His love which surrounds us, not only when we have bright days, but in difficult times too.
By now some of you will have managed a break away and seen the sea or different scenery. You will also have been able to meet up with family and friends now that the COVID restrictions have eased a bit.
A special thank you goes to Ian for taking Mary Brown to see Marion's tortoise, she thought it had grown and had such a happy afternoon. Itís good to be able to worship together again in church and we thank the team who worked on Zoom and now are live streaming the service so that people who canít come to the service can join in, especially our friends in Foxholes. (Picture 'Full house at Foxholes' right)
We remember those who are :-
Recovering from illness or surgery
Are in hospital
Facing hospital appointments
Awaiting results
Unwell
Remember these words from Deuteronomy 31.8 "The Lord himself goes before you and will be with you; he will never leave you nor forsake you. Do not be afraid; do not be discouraged."
Also in our prayers are:-
Rev. Jane, who is on sabbatical, but will return in October. May she have gained spiritual, emotional and mental refreshment and deepened her relationship with The Lord as she leads us forward.
Pastor Michael Campbell as he retires from Stondon on September 26th
Carol Ward as she begins her retirement after being headmistress
Oliver Glindon, (Maralynís grandson) as he transfers to a new school in Biggleswade
For students who will starting or continuing pre-school, nursery, primary, secondary or university
For all the teaching staff
Phase
We particularly pray for the baptismal service taking place at THS on Sunday 12th September for Margaret Nyiranda, who worships at Stondon and for Stephen Copson and Mike Campbell as they lead the service.
We also pray for Sheila, our church secretary and the deacons who have additional roles whilst Jane is away. Let us remember each other in prayer and our church at Tilehouse Street.
May the peace of God which passes all understanding, keep your hearts and minds in the knowledge and love of God and of his Son Jesus Christ our Lord and the blessing of God Almighty, Father, Son and Holy Spirit be upon you and remain with you always.
Amen
Val Chivers, Pastoral Care Organiser.

Meeting back in the church
---
Correspondence


Help needed - Flower Team Co-ordinator.

Everyone enjoys seeing a beautiful vase of flowers and most, if not every member of the church family, has at some time received a gift of flowers from the church.

There is a talented team of people who buy and arrange the flowers every week but there is now a need for someone to co- ordinate the behind the scenes work that enables this ministry to happen.

This is a little administrative task but not an onerous one and no floristry skills are required.

In a nutshell, there are two parts to this job which could be done either electronically or with paper and pen or a combination of the two.

The first part is to send gentle but timely reminders to people who give financial donations for the purchase of flowers but there is no handling of money involved.

The second part is ensuring that all members of the flower arranging team know when their turn comes around. Could you take on this task? If you would like to know more please speak to Sheila Hallas.
---