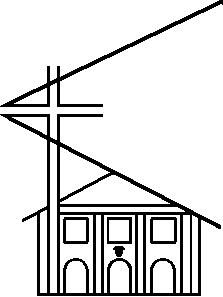 OUTLOOK
Outlook July/ August 2019
Correspondence


Just a little note to thank you all for the lovely flowers which Gill delivered for my birthday. We spent the day at Old Warden, visiting the Swiss Garden (my treat) and the Aircraft Museum (Richardís treat!), so all in all it was a very enjoyable time.

Richard joins me in sending best wishes to you all,
Hilary Womwell

The flowers sent from the church on our Wedding Anniversary were beautiful. Thank you so much.

Love and best wishes,
Pauline and John Edwards.
---
Do you remember?
Anthony Smith, son of Paul and Jenny Smith of Westfield Close, practised on the organ at Tilehouse Street, and sometimes played for Services, when he was an organ scholar. Anthony not only had help and encouragement from his parents but also from Alex and Olive Stewart who were members of Tilehouse Street Church. While sitting in the church listening to Anthony practising, Olive did her knitting!
Now … Anthony is to be ordained deacon at Durham Cathedral on 30th June. He has been training at Cranmer Hall Durham and will be serving his curacy at St. Paulís Church Spennymoor and Whitworth parish Church in the Diocese of Durham. See St Paul's web page at http://www.stpaulsspennymoor.co.uk/site/index.php?page=content&content=8879
We wish Anthony every blessing in his calling to this work.
---