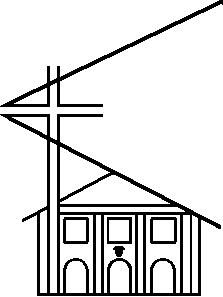 OUTLOOK
Outlook May 2020
A few poems
A little poem just for everyone!
Whether the showers are passing
Or whether they're here for a while,
Let's weather the weather together
And try to get through with a smile.
For though we can't always have sunshine,
It's plain when the clouds gather near
That the more we can shelter each other
The quicker those rainbows appear.
Maggie Ingall.
Thoughts on a Quiet Day 2019
The Church ticks on relentlessly -
The time goes on ceaselessly.
Time cannot go backwards.
It cannot recapture the feelings and emotions
of yesteryear - yesterday - yesterhour.
Every day brings different experiences
different challenges
different joys
different sorrows
different regrets
'Carpe Diem' ... seize the day.
Sometimes I want - to sleep the day away
I want the world to stop - to acknowledge the birth or death of a loved one,
To admit to fears that a hospital diagnosis could be life changing,
To shut my eyes to the increasing frailty of a dear friend.
But ... God who created me
Has walked with me through so many years
And walks with me still,
And loves me still ... the walking aid, the wheelchair, the greying hair,
the balding head, the eyes that cannot see so well, the ears that cannot
hear so clearly, the head that muddled gets, the memory that fades -
And yet the Lord says "I love you"
And so we must through good and ill
love each other,
love our God,
Love ourselves until the end
When into His waiting arms we will ascend.
Amen.
Mary Taylor
---