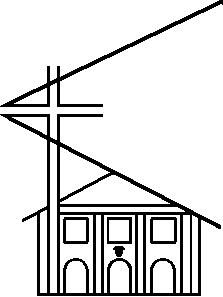 OUTLOOK
Outlook May 2020
Good Friday 2020
Iím at home -
Itís so quiet - oh so quiet.
Occasionally a bird sings,
A dog barks,
Somewhere a lawn mower hums,
The sound of a childís voice wafts through the air.
The churches are shut.
Most shops are closed.
Outside supermarkets a silent queue makes its way to the entrance, each
customer 2 metres from another.
No-one talks - no-one smiles. Eyes cast down they wait to enter the store.
Silently, singly they select their purchases
Approach the checkout and leave -
Avoiding the eyes of each other.
Last year, for many, a service in church
Preceded a walk of Christian witness to the Market Square.
There, a service remembered the crucifixion of our Lord and Saviour Jesus
Christ on the first Good Friday.
Later a dash to a cafť for chatter, coffee and cake - a bit of frivolity after
the solemnity.
Later maybe further worship ...
for many Good Friday is just a normal day and everywhere there would
be the noise of many people enjoying a Bank Holiday.
Todayís silence - we are in lockdown - gives time to reflect on the
coronavirus pandemic
time to ponder Jesus condemned to death - his struggle as He carried
the cross through the streets of Jerusalem - falling three times because of its weight and His weakness - His nailing to the cross and slow,
excruciating death - abandoned, as He felt, by all and even God Himself.
Maybe Good Friday 2020 resonates how He and the disciples felt all those years ago.
The certainties of everyday life shattered. The world not knowing what to do. Our structures destroyed for how long? We do not know what the present or the future holds physically, mentally, financially - emotionally or spiritually.
But we know that we have not been abandoned by the Risen Christ. He is making Himself known through so many caring agencies - caring strangers and not least the N.H.S.
Jesus Christ is Risen. He is Risen indeed. Alleluia
Mary Taylor
---