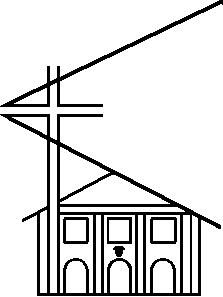 OUTLOOK
Outlook August/ September 2022
The Life of Christ
by Carol Ward
On Saturday 25th June, I was lucky enough to accompany a small group of people from All Saints Church, Clifton to the Wintershall Estate in Surrey, to watch an outdoor production depicting the Life of Christ.
This event has been taking place for many years and is put on by a dedicated crew and cast of volunteers. The production takes place in 3 different locations on the estate with the audience moving between each Act. The surroundings are breathtakingly beautiful and ideal to enable the audience to hear, see, feel and be transformed by Godís incredible natural world. Over 4 Acts, the production depicts the Life of Jesus Christ from his birth, baptism, teaching, trial, death and resurrection, with incredibly detailed and sensitive acting and dialogue. The audience are seated on grassy banks, overlooking each area, with very clever sound production enabling you to hear every word from the whole cast. Many of them have been part of this production, and others that the Wintershall Estate provide, for many years. This year, the actor that was playing Jesus, was making it his final production after 30 years in the part!
The day started at 7.30am with the minibus ride from Clifton, breakfast being consumed enroute. Arriving at Wintershall about 9.20 meant that there was time to visit the conveniences and grab a coffee before making our way to the first production area. There we found a suitable area to put our seats and blankets and waited for it to begin. Two of our party made good use of the motorised disabled provision (golf buggies) to get from the car park to the first production area and then from each area to the next. As it is an estate, there is a reasonable amount of walking on uneven, and at times hilly, ground but beautiful all the same. Lunch was taken between Act 2 and Act 3 (between the parables and the triumphant entry into Jerusalem). After lunch proved to be very moving and emotional as we witnessed the trial and crucifixion. As the audience moved to the last area for Act 4 (the Resurrection and Ascension ) the atmosphere was amazingly quiet and reflective, the production making you feel that you were actually there, feeling what the people of the day must have felt.
Walking back to the minibus after it had finished, provided some opportunity to reflect and discuss what we had witnessed and the power of the word of God.
Wintershall Estate put on this production every year at a cost of £50,000+ over 4 days, as well as the Nativity in December and the Passion Play in Trafalgar Square at Easter. Their education department also provide workshops, staff inset and retreats and curriculum support.
An amazing day in Bramley, Surrey and one I would heartily recommend for anyone to attend, whatever their belief. A day I will certainly try to repeat at some time in the future.
---