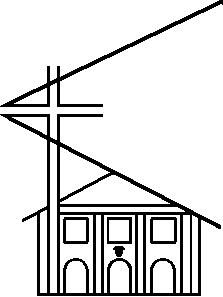 OUTLOOK
Outlook July/ August 2019
350th Anniversary Celebrations - 1
Gone but not forgotten!
Back in March, Tilehouse Street celebrated its 350th anniversary and we were able to give a brief report on the week's activities in the April issue of Outlook. Since then we have had many opportunities to look back over that time and to give thanks to God for a wonderful occasion. Now we are able to include slightly longer reports on each event written by different people – and we have more photos too!
But it is right that here we also acknowledge that the key organiser, Peter Bleasby, who worked so hard to bring everything together, passed away just a month or so later. He is very much missed but we are grateful to God that Peter lived long enough to enjoy all the events and to receive the plaudits he so richly deserved.
A Festival Concert
presented by Vivace Choir and Strings, Saturday 16th March 2019
What an interesting, relevant and entertaining way to start the church's celebrations.The long-standing relationship that Peter Bleasby had built up with Vivace over the years meant that an evening of spoken and sung word relating to John Bunyan's Pilgrim's Progress and the 17th century in general was superbly crafted and performed.
Musical Director, Robert Bunting, produced a wonderful mix of styles of music from the period beginning with an unaccompanied rendering of Bunyan's words set to an English traditional tune, through negro spiritual, chant, music new to the choir sung to the organ and strings, and an orchestral piece through to the finale of the Pilgrim hymn in which everyone joined.
There is not space here to detail each piece that was performed but the Holst setting of Psalm 168, "Lord who hast made us for thine own" deserves special mention. The climax of the piece saw the choir, orchestra and organ all performing at the same time but all singing or playing a different tune. The sound was glorious! And mention needs also to be made of the performance of three movements from Divine Emblems: we were privileged to have the composer, John Chambers, present with us.
Interspersed through the evening we were also treated to four readings from Pilgrim's Progress, thoughtfully and clearly presented by Martin Stears- Handscomb, Sam Hallas, Pam Slade and Mary Taylor. We were also served with refreshmentsby several Tilehouse Street folk dressed in seventeenth century costume who made sure that no-one went without, whether on the way in or during the interval. Thank you to you all.
Details of performances of Vivace Choir can be found at www.vivacechoir.co.uk
Jane Robson.
---
Anniversary Service
Sunday, 16th March 2019.
Morning service as led by the Rev Dr David Gregory the current president of the Baptist Union. For those who had heard David before, it came as no surprise. But for those in the congregation who were seeing David for the first time, there may have been some amazement, when he shed his suit jacket and donned a white laboratory coat,assuming his alter-ego as Doctor Dave!David is well known for his use of science in hispreaching. First he performed a stunning trickwith a hairdryer and plastic ball. He levitated theball in the air above the hairdryer! Not contentwith this he moved the dryer so that it was tothe side of the suspended ball. In itself aninteresting trick, but Doctor Dave did not thenspring into a scientific explanation but spokeabout the Holy Spirit. How, like the air from thedryer, it provides support.
Later the children returned from Bright Sparks to perform a short mime of the history of Tilehouse Street. This included changing hats they had made for the the different time periods. They then went on to show pictures they had drawn of the future Tilehouse Street, including a robot minister! As it happened this matched one of David's themes that the celebration is as much about looking forward as it is looking back.
Using his patent viewer he encouraged the congregation to see the world in a new way. Small plastic windows were distributed among the congregation. When looked through the viewer was given a new perspective, not easily described. David expanded on this to encourage the congregation to see the world through different eyes.
Finally he produced his rocket launcher or rather a Heath Robinson construction of plastics tubes and drinks bottles! With some assistance, and a count down from the congregation, he launched a prayer into the air.
A memorable service for all of us who were there!
Paul Chamberlain
---